NARBC show organizers work to promote the keeping of reptiles.
The Pet Industry Joint Advisory Council, at its first PIJAC Awards Ceremony, honored Bob Ashley and Brian Potter with its first Pet Advocates of the Year award, held at the Pet Industry's Top2Top Conference. Ashley and Potter run the North American Reptile Breeders Conference, which attract the world's best reptile breeders that showcase rare reptiles.
---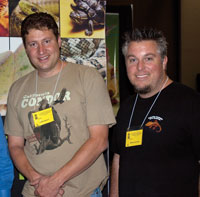 Photo by Sandy Quinn
Brian Potter, right, and partner Bob Ashley.
---
The shows, which are held in Anaheim, CA., Tinley Park, IL., and Arlington, TX., also offers attendees the chance to purchase new additions to their reptile collections. At each conference, the duo hosts educational programs for vendors and attendees alike. Each event ends with an auction, with the proceeds going to PIJAC and USARK.