Bert Langerwerf's farm, Agama International, has been sold.
---
Agama International, started by well-known lizardkeeper and breeder Bert Langerwerf, has been sold. After Langerwerf passed away in August 2008, his family kept the farm running until selling it to Steven and Lauren Brooks this summer.
The Brookses moved from New York to the 7-acre lizard farm in Alabama, where they are still unpacking and completing repairs and maintenance. They are continuing Langerwerf's work with Eastern water dragons (Physignathus lesueurii lesueurii), Chinese crocodile lizards (Shinisaurus crocodilurus) and Solomon Island prehensile-tailed skinks (Corucia zebrata) while expanding with African crag lizards (Pseudocordylus melanotus subviridis), spiny-tailed monitors (Varanus acanthurus) and Gran Canaria giant lizards (Gallotia stehlini).
---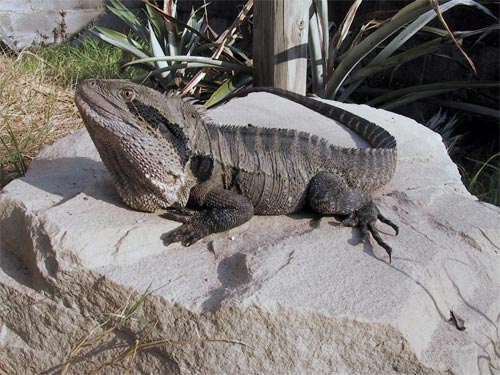 Bert Langerwerf was well known for the Australian water dragons he bred at Agama.
---
Although the couple do not have previous experience breeding lizards, they come from an exotics background. Steven has kept herps for most of his life, and Lauren, who was a licensed wildlife rehabilitator in New York, began keeping herps in high school and has seen them as wildlife patients in her work. She has been breeding arthropods for many years. Steven, who left behind a career in zoos, said he's read "everything I could get my hands on" concerning reptiles. They are both grateful for the enthusiasm and support they've received from fellow herpers since buying Agama International.
Despite a slow-to-recover economy, Agama International is getting inquiries after lizards almost every day. Steven said they have barely started advertising, but attributed their early success to Agama's solid reputation and the farm's uncommon lizards. "People who want them only have a handful of places to find them," Steven said. "Thanks to Bert's exceptional breeding efforts, we often have a greater availability than other sellers."
---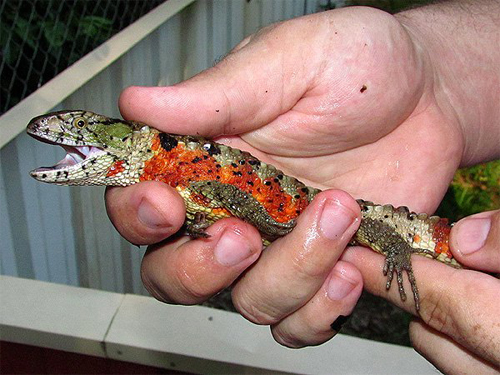 Advertisement
Chinese crocodile lizard at Agama.
---
But taking over Agama International has not been without its challenges. Due to a feeder problem, the Brookses had to buy about 100,000 feeders to get them through the rest of the year. And general maintenance and upkeep around the farm has not been easy in a hot Alabama summer.
Aside from making their own improvements and alterations to the facilities at Agama International, Steven and Lauren plan to play an active role in the preservation of Alabama wildlife. Langerwerf, who built the farm in 1988, made it a "green" facility from the start, and a large portion of the land is untouched wildlife habitat.
The Brookses plan to create even more wildlife habitat with native plantings. And after Lauren obtains her wildlife rehabilitation license for the state of Alabama, the couple will work with native herps that have been injured or otherwise harmed due to human encroachment on wildlife habitats. The couple also plan to modify the animal education/outreach program they started in New York to incorporate some of Alabama's native wildlife.
Advertisement
---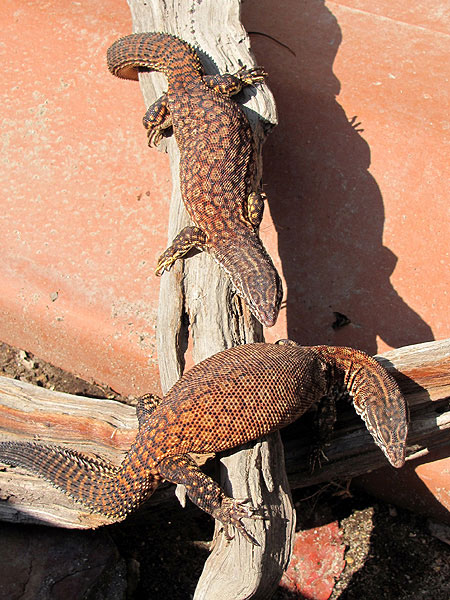 The Brookses have added spiny-tailed monitors to the stock at Agama.e
---
For now, Agama International is only selling animals in the United States, but the Brookses would like to ship internationally again one day.
"We would like to once again make Agama one of the biggest and the best, and do justice to Bert's passion and commitment to advancing herpetoculture," Steven said.
Advertisement
Langerwerf was considered a pioneer in herpkeeping, and he bred more than 135 species of reptiles. He made early discoveries regarding temperature-dependent sex determination in herps, wrote about the effect of terrarium glass filtering out ultraviolet light in the 1970s, and was the first to breed the super mealworm (Zophobas morio).