You don't have to go to a really big reptile show to have an enjoyable experience, take SEWERFest 2010 for example.
Click image to enlarge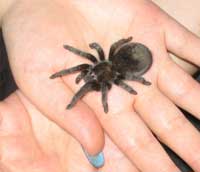 Me holding a Brazilian black tarantula, Grammostola pulchra.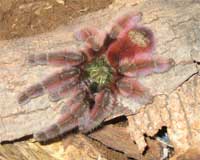 A stunning adult specimen of an Antilles pinktoe tarantula, Avicularia versicolor.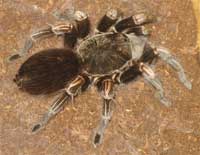 The humongous Peruvian giant orange stripe tarantula, Lasiodorides striatus.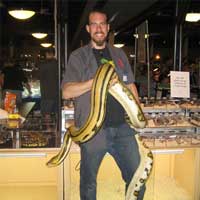 Chase Delles of Chase 'N' Reptiles holding his super tiger reticulated python.
A little while ago I attended my first SEWERFest, which stands for South East Wisconsin Exotic Reptile Festival. Aside from the terrible-sounding acronym (one would either expect quite the stench or to see Teenage Mutant Ninja Turtles present), it was a pleasant experience.
Located in Sturtevant, near Racine, Wis., it was but an hour drive from the Chicago area. I soon realized that a lot of the same people that I see at my local reptile show were there too. There was a nice variety of animals, and I saw some new species of geckos that I had never seen before. There was also a nice array of invertebrates, mostly tarantulas, and I was able to handle some of these creepy-crawly guys as well. It was at a smaller venue than the NARBC show I attend, or even the local show I frequently attend, but many patrons and vendors alike seemed excited to be there, and it was a very friendly atmosphere. I'm sure that the onsite bar helped in that respect, too.
With the smaller show, I felt like I was less rushed, and could spend more time browsing tables and chatting with people. I got to once again talk with Dav Kaufman and I picked up a copy of his new director's cut of Herpers, the film he created about herping and the reptile industry. I also had the opportunity to speak with someone I had never met before — Chase Delles of Chase 'N' Reptiles. In addition to selling snakes, he also does educational presentations with various reptiles for schools and other groups. This helps people really get interested in, and involved with, herps that they may otherwise never come in contact with. I was thrilled that he was gracious enough to take out one of his largest reticulated pythons for a photo.
Click image to enlarge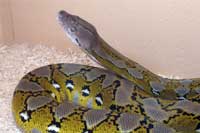 Male platinum reticulated python courtesy of Chase Delles.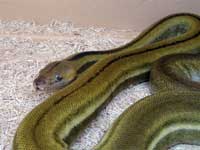 Male titanium reticulated python courtesy of Chase Delles.
To refrain from any impulsive live animal purchases, I avoided attending the benefit auction at the end of this show. I no longer trust myself at these exciting events, because it is much too easy for me to raise my hand to bid on things. Without the use of some type of arm restraints, my hand seems to just levitate into the air on its own, so it is safer for me to not be there at all.
I learned that you don't have to go to a really big show to have an enjoyable experience, and that there are always new herps to discover and new people to talk to. Any size venue can be rewarding. I also discovered this tidbit while driving through Wisconsin: the silly looking man standing by the side of the road and holding what looks like a hairdryer pointed at cars is actually a state trooper, and speed traps are no laughing matter.
-The Toad Talker
Advertisement