Save The Frogs Day is April 29.
Click image to enlarge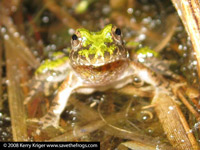 Save The Frogs Day is Friday, April 29. Photo courtesy savethefrogs.com
Frog-lovers and environmentalists of all ages are gearing up for the 3rd Annual Save The Frogs Day, to take place on Friday, April 29. The goal is to raise awareness about the disappearance of frog species worldwide. Save The Frogs Day events are being planned in at least 15 countries, including the United States, Canada, Colombia, Nepal, South Africa, and Australia. The events are being coordinated by SAVE THE FROGS!, a California-based nonprofit dedicated to amphibian conservation.
Amphibian populations worldwide have been declining and nearly one-third of the world's amphibian species are threatened with extinction. As many as 200 species have completely disappeared in recent years, according to SAVE THE FROGS!. Amphibians are faced with many environmental problems, including climate change, pollution, infectious diseases, habitat loss, invasive species, and over-harvesting.
"There are 18,000 registered pesticides in the United States. One of the worst is Atrazine, an endocrine disruptor that can turn male frogs into females at 2.5 parts per billion," said Dr. Kerry Kriger, Founder & Executive Director of SAVE THE FROGS!.
Atrazine was banned in the European Union in 2004, but eighty million pounds of it are used in the USA each year, primarily on corn. "Atrazine is the 21st century's DDT. We want it banned," Kriger said.
Save The Frogs Day events include a frog legs protest at the Coney Island, NY location of Nathan's Famous, a nationwide restaurant that sells frog legs. The frog legs trade is growing and America is set to soon overtake France to become the world's largest importer of frog legs, according to SAVE THE FROGS!.
In San Francisco, supporters will gather at the steps of City Hall to ask the city to save the Sharp Park Wetlands. The wetlands are home to endangered California red-legged frogs, but San Francisco currently pumps the wetlands out to sea to accommodate a golf course, according to SAVE THE FROGS!.
Toronto's frog enthusiasts will be celebrating Save The Frogs Day with their 2nd Annual Frog Leap-a-Thon, a 250-meter race down the city's boardwalk.
Advertisement
Students at Texas Tech University will attempt to make it into the Guinness Book of World Records by organizing the largest gathering of people wearing frog masks.
Save The Frogs Day has been legally recognized by the Governor of Virginia, and Mayors of Vancouver, British Columbia, and Santa Cruz, California.