Retailer has four stores in San Diego and Riverside counties.
Looking for a store that specializes in reptiles? One that makes reptiles its main focus? Look no farther than LLLReptile. Chain owner Loren Leigh has been in the industry for nearly two decades, and he has continued to grow his business each year. The new, larger Oceanside location, which is one block from its original location, is one of four stores in California, the others being in San Diego, Escondido and Menifee. He also has two warehouses and a breeding facility. You can often find him at more than 30 expos a year.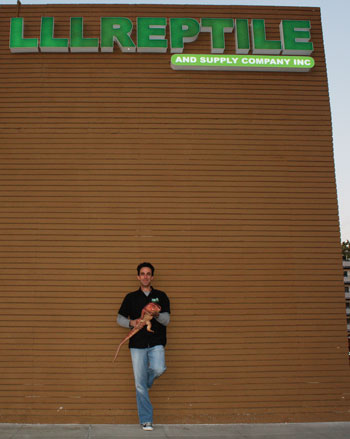 Loren Leigh
Go Here
LLL Reptile, 700 Seagaaze, Oceanside, CA 92054; 888-547-3784; LLLReptile.com
The new location opened in January 2013 and is a sprawling 7,000 square feet. More than 2,500 square feet is dedicated to live reptiles and 3,000 square feet is dedicated to the products that help them thrive. Although the store carries hundreds of live reptiles and invertebrates, including turtles, tortoises, monitors, amphibians, lizards, scorpions and spiders, they have an extensive selection of chameleons, dart frogs and ball python morphs. And if you need feeder insects? You will find crickets, fruit flies and worms galore.
And Leigh is not done improving the location. He still has plans to create a 15-foot-tall vivarium, complete with waterfalls, an automatic rain system and live plants. The store will eventually hold movie nights and workshops to help educate local customers, as well.
"We pride ourselves on our knowledge of reptiles and reptile products, with the most inviting environment and highest level of customer service possible. Your one-stop reptile shops! We are a company that is full of reptile hobbyists. We not only keep them as pets on our own time but spend pretty much any available time we have keeping them, field herping, breeding reptiles or just plain talking reptiles," Leigh says.
The store is most certainly a herper's paradise. Not only can you find specialized lighting and advanced care equipment, such as misting systems and incubators, you will also find some surgical equipment and breeding rack systems. It is clear that the people in charge of stocking the shelves love what they do and want every reptile product available to be at their customer's finger tips.
Advertisement
Despite years in the industry, Leigh's enthusiasm has not waned. "I love retail," he says. "It affords me the opportunity to see people get into this hobby, hold their first reptile, own their first reptile and just really experience a truly cool animal. I also enjoy the wide array of people that make up the industry and their various backgrounds. We are all so different, with different interests, but we have that common bond in our interest of the hobby. I am a proud board member of USARK, and each day I see people fighting for their ownership rights of reptiles and the passion they have to keep this right." REPTILES