Today's the deadline to fight the Python Bill.
Click image to enlarge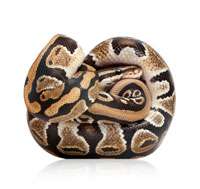 If S373 passes, hobbyists will find every python, from balls such as this, to Burmese, to bloods, much harder to come by.
The hearing for S373, which is being called the "Python Bill" in reptile circles, takes place on Thursday. That makes Wednesday — TODAY — the deadline to phone and voice your opinion regarding this proposed legislation of adding all snakes of the genus Python to the list of injurious wildlife.
I urge you to phone if you enjoy the freedom of being able to buy pythons from out-of-state python breeders. If this bill passes, not only will it be illegal to import pythons into the U.S., it will be illegal to transport pythons across state lines. That's ANY python, from Burmese to balls to bloods and all the rest. Think about what that means:
Advertisement
1. Pet stores will not be able to buy pythons from out-of-state breeders, meaning the selection of pythons in your favorite local pet or reptile store will dwindle.
2. Python breeders will not have booths at reptile expos in states other than their home states, severely curtailing the python selection at all of the shows.
3. If you purchase pythons direct from breeders over the Internet, you would only be able to buy from breeders in your home state.
4. Likewise, private parties selling pythons, whether through an online classified ad or other method, will not be able to ship the snakes across state lines. That severely limits the opportunities of both people selling and buying the animals.
5. The number of pythons that would be available will lessen without new imports allowed. New bloodlines will cease to exist eventually.
Advertisement
I don't believe this bill will have any effect on Burmese pythons in the Everglades, which are touted as a reason for passing it. It may even make it much worse. If passed, what this bill will accomplish is severely hamper, if not destroy outright, the businesses of many reptile breeders, limit our freedom, and perhaps drive a currently legal sector of the reptile hobby underground, maybe creating criminals where there are none now.
Keep this in mind as you read the below announcement from USARK:
S373 aka 'The Python Ban' will receive a Hearing before the Senate Environment & Public Works (EPW) Committee Chaired by Barbara Boxer (D-CA) on December 3, 2009. The bill sponsor is Senator Bill Nelson (D-FL). If passed as written it would Ban all snakes in the family Pythonidae, placing them on the Injurious Wildlife List of the Lacey Act. That is ALL 40 species of pythons! This action would stop all import, export and interstate transport. The Humane Society of the United States (HSUS) has taken steps to lobby Senator Nelson to add Boa Constrictor to the bill as well. HSUS has publicly called for an end of reptile ownership nationwide for years.
This will NOT be a full and fair hearing on this issue. As we understand it right now there will be eight bills heard by the committee with only one witness to testify on all eight. USARK does not anticipate that there will be additional witnesses called. This seems to be an effort to ram through as many bills as possible in as short a time as possible.
Advertisement
USARK is opposed to legislating any animals on to the Injurious Wildlife List of the Lacey Act. This should be a science and policy driven debate. As it stands now the science is being "cherry picked" to support political expediency. An independent group of scientists called the USGS study being used by HSUS and others to justify a ban, "unscientific".
USARK is providing the best information available on this issue. We realize that these are scary times and we ask that everyone in the community come together to fight this battle. There is Strength in Numbers… Protect Your Rights. Join the Reptile Nation!
CALL IN DAY: 11/30, 12/1 & 12/2
Sample:
Advertisement
My name is _____. I oppose S373. Although I support and appreciate efforts to preserve the Everglades, This bill will hurt American families while doing little to benefit conservation. This bill would Ban the captive bred trade in 40 species of pythons. It would destroy thousands of jobs in our state and across the country. Scientists have questioned the USGS report being used to justify this extreme proposal. Science should trump political expediency. Please oppose S373.
Call List: (this is not a full list of the EPW just the key members likely to be at hearing)
Senator Bill Nelson (D-FL), (Sponsor S373)
Phone: 202-224-5274
Fax: 202-228-2183
Advertisement
Senator Barbara Boxer (D-CA), (Chair EPW)
Phone: (202) 224-3553
Fax: (202) 224-0454
Senator James Inhofe (R-OK), (Ranking Member EPW)
Phone: (202) 224-4721
Fax: (202) 228-0380
Senator Ben Cardin (D-MD), (Chair Water & Wildlife)
Phone: 202-224-4524
Fax: 202-224-1651
Senator Mike Crapo (R-ID), (Ranking Member Water & Wildlife)
Phone: (202) 224-6142
Fax: (202) 228-1375
Advertisement
Lamar Alexander (R-TN)
Phone: (202) 224-4944
Fax: (202) 228-3398
Please encourage everyone you know to make these calls. Forward it on your email lists, forums and social networking sites. IT IS CRITICAL THAT AS MANY AS POSSBLE PARTICIPATE!!!!