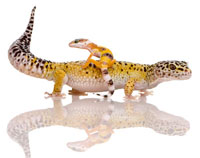 This is the first picture for the Creature Caption Contest, running from July 1 through July 31, 2009.
Here on ReptileChannel we work hard to provide reptile articles, care sheets and other useful information about reptiles themselves, as well as some fun games and other activities we hope people will enjoy while visiting the site. The Mystery Skull Challenge has proven quite popular and that's only the tip of the iceberg.
In the past I've suggested you visit the Fun and Games section on ReptileChannel, and I'm going to do so again now because we've got two new things for you to check out.
First up is the Snake Game. When ReptileChannel games are being developed we editors get to test them, and I can say with honesty that I got hooked on the Snake Game one afternoon during the testing phase. It is addictive, and I was driving myself crazy trying to do better and better. My ultimately feeble high score has long ago been obliterated by others, most prominently by another editor's 12-year-old daughter, Cheyanne, who's name remains very prevalent on the high scores listings as I write this. I guess it's time for me to admit that my video game prowess has faded, and I'll have to be content knowing that my gaming crowning achievements will forever be linked to Asteroids and Donkey Kong, and not any of today's games – including, so it would appear, ReptileChannel's Snake Game.
This sad realization aside, I still had fun playing the Snake Game and think you will too. See if you can beat the current 900-point high score. I'll keep trying, but geez, I think it's going to be a tall order for me to accomplish.
Our other new attraction on the site is the monthly Creature Caption Contest, which provides you an opportunity to earn 500 or more Club Reptile reward points. For those who don't know, if you are a member of Club Reptile you are given reward points for participating in various activities here on ReptileChannel, such as taking quizzes, answering poll questions, etc. The reward points accumulate in your Club Reptile account, and you can eventually cash them in for reptile products provided by various manufacturers (check out the latest offerings by clicking here; new items should be added periodically). Joining Club Reptile doesn't cost you anything and you're given points for stuff that you might be doing anyway. And ultimately you can get free stuff!
With Creature Caption, a new photo will be posted each month and your job is to submit a funny caption for it. It's that easy. We'll review all the entries and choose one to post as the winner after the deadline for that month's contest. The person who's caption is used will get 500 reward points. Also, you're welcome to submit your own photos for the Creature Caption contest, and if we use one you'll get 500 reward points.
Check out these two new features on ReptileChannel and start racking up your Club Reptile reward points today.