Popular tortoise and educator, Mojave Max, passes at 65.
Despite the passing of the desert tortoise Mojave Max, Clark County, Nevada officials said that the Mojave Max Education Program and Emergence Contest will continue.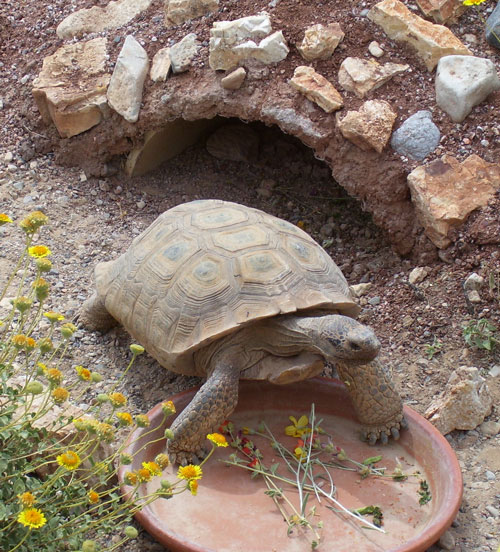 Advertisement
Christina Gibson
Mojave Max's Education Program is estimated to have given invaluable information to as much as 100,000 students.
Mojave Max was a desert tortoise that resided at the Red Rock Canyon National Conservation Area. He was the representative of the Clark County Desert Conservation Program since 1991. He was also the representative of the Mojave Max Education Program and the West Coast's weather prognosticator since the Mojave Max Education Program and Emergence Contest began in 2000. Approximately 100,000 students have learned about the Mojave Desert ecosystem through his representation.
Like other Southern Nevada desert tortoises, Mojave Max entered a burrow to brumate, the reptilian form of hibernation, every winter and emerged every spring. Each year a contest was held in which local students would guess when Mojave Max would emerge from his burrow. Mojave Max has emerged as early as February 14 and as late as April 14 during his nine-year tenure. His earlier emergences correlated to earlier spring-like weather, and his later emergences also correlated to later warming in the Southwest.
A successor to Mojave Max, who died of natural causes at an estimated age of 65 years old, will be selected by the fall, officials said.
Advertisement