Mice Direct recalls its frozen feeder animals for reptiles.
Click image to enlarge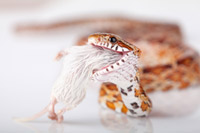 Mice Direct has issued a recall for its frozen feeder mice, rats and chicks.
*UPDATED
Biggers & Callaham LLC/Mice Direct of Cleveland issued a nationwide recall of its frozen reptile feed in late July due to possible salmonella contamination.
The frozen mice, rats and chicks were distributed in all states, except Hawaii, through pet stores and by mail order and direct delivery, according to the company. Human illnesses possibly related to the frozen reptile feed have been reported in 17 states, according to Mice Direct. This type of salmonella is not transferrable to reptiles, according to the company.
The affected product was shipped in plastic bags with the following product codes: M-SP100, M-P100, M-PF100, M-F100, M-H100, M-W50, M-A50, M-JA25, R-P100, R-F50, R-PUP50, R-W50, R-S50, R-M20, R-L10, R-J5, R-C5, R-M3, which are followed by E9, F9, G9, H9, I9, J9, K9, L9 or A10, B10, C10, D10, E10, F10, G10 (i.e., M-SP100 E9); whole frozen chicks were shipped in 25-count bags.
The company issued the recall after the U.S. Food and Drug Administration found salmonella in a sample of frozen mice, company CEO John Callaham said.
Humans handling the product may become infected with salmonella, especially if they have not thoroughly washed their hands after having contact with the raw feed or surfaces exposed to the recalled product, according to the company. Symptoms in humans may include nausea, vomiting, diarrhea or bloody diarrhea, abdominal cramping and fever. Children, the elderly and people with compromised immune systems are particularly susceptible to infection.
Customers are advised not to use the recalled product even after heating it, because that may not be adequate to kill salmonella.
Advertisement
Consumers who purchased reptile feed from Mice Direct are urged to contact the company at 1-888-747-0736, 9 a.m. to 5 p.m. EDT Monday through Friday, or by e-mail at sales@micedirect.com.