Meet ReptileChannel "Ask the Vet" columnist Dr. Margaret Wissman.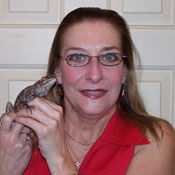 Dr. Margaret Wissman
Margaret A. Wissman, DVM, Dip. ABVP, graduated from the University of Illinois, College of Veterinary Medicine, in 1981. She became board certified in Avian Practice in 1994 by the American Board of Veterinary Practitioners. She is active in the mentoring program of ABVP and she is a member of the Association of Reptile and Amphibian Veterinarians.
Dr. Wissman has a 100 percent avian/exotic animal practice in Wesley Chapel, Florida. Dr. Wissman counts many herp breeders and importers, both large and small, as regular clients.
She works part-time performing exotic animal consultations for Antech Diagnostic Labs, assisting veterinarians with their exotic cases throughout the United States. Dr. Wissman has lectured worldwide on exotic, avian and reptile topics for a variety of veterinary organizations, bird clubs and reptile groups. She is a regular contributor to REPTILES magazine and has long written the monthly Causes and Cures column for Bird Talk magazine. She is a frequent contributor to many lay and professional textbooks, proceeding and journals and has a special interest in professional editing.
Dr. Wissman and her husband, Bill Parsons, operate Small World Zoological Gardens and Sanctuary, dedicated to the captive conservation and breeding of endangered and threatened parrots, reptiles and callitrichids (marmosets and tamarins). They have rescued a blind Galapagos tortoise, green iguana needing medical care and even a three-legged box turtle. For fun, she enjoys horseback riding, jet skiing with her Chinese Crested dogs and enjoys scuba diving in the Florida Keys.