Leopard gecko is saved by CT scan.
Click image to enlarge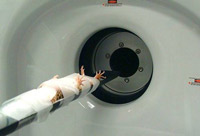 Leopard gecko CT scan courtesy Thomas Boyer, DVM.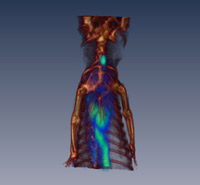 Leopard gecko scan courtesy BioLaurus.
A leopard gecko belonging to Erik Fields of Santa Barbara, Calif., is believed to be the first in the world to have received treatment for hyperthyroidism, according to veterinarians who treated the 13-year-old reptile.
A key part of this unique case involves the medical equipment used to detect the problem. The 6-inch lizard, named GirlieGrrrl, was diagnosed with a rare CT scan designed for the smallest animals.
GirlieGrrrl's case began at the Pet Hospital of Penasquitos in San Diego, Calif., where her owner took her to see Thomas Boyer, DVM, who has a special interest in veterinary care of reptiles. He referred the gecko to the Veterinary Imaging Center of San Diego to have her checked for hyperthyroidism.
Fields said his pet was not eating well and she began to lose weight, was shedding frequently and had diarrhea. The center's founder, Seth Wallack, DVM, Dipl. A.C.V.R., said, "You know a gecko is sick when it's not taking its crickets."
To confirm what veterinarians believed, GirlieGrrrl was anesthetized and taped down on her back then went through the scanner for 20 minutes. This CT machine also has a nuclear medicine scanner attached so it not only provides CT images but also shows thyroid activity, Dr. Wallack said.
"The results showed that she had one big thyroid gland, and normal geckos have two small ones," he said. Since starting treatment with radioiodine therapy, the gecko's thyroid values have returned to normal.
Follow-up visits show GirlieGrrrl continues to do well, and Dr. Wallack said the pet's owner has plenty to do with the recovery. "He was with this the whole way," he said, adding that Fields has spent thousands of dollars on treatments.
Advertisement
Dr. Wallack's patients include a koala and a gorilla from the San Diego Zoo, as well as other reptiles, and now, GirlieGrrrl, his first leopard gecko.
"I was skeptical that this would work because it hadn't been done," he said. "And everything fell into place."