The impact the Gulf of Mexico oil spill will have on wildlife is still unknown.
Click image to enlarge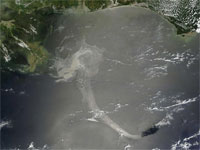 This image was captured by NASA's Terra satellite on May 17. It shows how the spill is moving southeast toward Florida. Image courtesy NASA.
One month has passed since the explosion on the oil rig Deepwater Horizon, which caused the massive oil spill in the Gulf of Mexico, and experts have yet to determine the potential impact on wildlife. The amount of oil being released per day has been estimated at 5,000 barrels, but some say this number is too conservative.
Sea turtles may soon be counted among those at risk from the oil spill. The number of sea turtles that have washed up dead or dying along the Gulf Coast is growing, with 154 found since April 30. However, sea turtle deaths at this time of year are normal; only in the past week has the tally surpassed the average number of deaths for this time period. What harmed the turtles is yet to be determined. Officials said it could be the oil or the chemicals being used to disperse the oil.
Of the five species of sea turtle considered native to the region, three are listed as Critically Endangered on the IUCN Red List while two are listed as Endangered. This time is especially critical to sea turtles, as they nest on the coast from May to August, and their eggs hatch from July to October. Dolphins and birds have also been found dead along the Gulf Coast.
Yesterday, it was reported that 20 tar balls washed up on the shores of Key West, Fla., and NASA satellite coverage has confirmed that ocean currents are pushing the spill southeast. Some observers worry that the slick will travel up the East Coast.
The extent of the danger the slick poses to wildlife is unknown, in part because it could be so great. When oil comes into contact with animals it can damage their reproductive abilities, poison them and cause internal damage, and cause hypothermia in marine animals. Yet once it reaches shore, oil also causes habitat damage, the effects of which can be felt for years once oil seeps into the ground. Animals that do not come into direct contact with the oil may still be affected if their food sources are contaminated or otherwise damaged.
Rowan Gould, acting director of the United States Fish and Wildlife Service, said that the effects of the spill could last for decades and never be fully understood, as so many of the animals that will be affected live far offshore.