Southern California fires affect reptile breeders.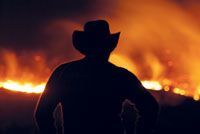 Allen Repashy watches the Rice Canyon fire. It burned more than 9,400 acres. Photo courtesy of Donald Schultz
Nine San Diego County wild fires affected thousands this past fall, including large-scale reptile breeders. Sandfire Dragon Ranch, Giantgeckos.com and Repashy Reptiles were at high risk, but the blazes never reached their doors.
However, four fires — one from the north, south, east and west — surrounded Repashy Reptiles at one point. "The closest one got about three miles from us but looked like it was much closer," owner Allen Repashy said.
Advertisement
Owning the largest collection of Rhacodactylus geckos in the world, Repashy said he tried to prepare for a fire, but he realized he wasn't prepared enough. "I would need a 53-foot tractor trailer full of deli cups to move my collection, and it would take 20 people a day to pack it up," he said. "I think in the future I will be better off building a better defensible compound and stay and fight rather than try and pack up."
Repashy consolidated geckos into crowded cages and lost several hundred due to stress and hot, dry winds. "Because of the crazy situation, the geckos got minimal care for a week, and we were pretty much completely shut-off from the world," he said.
According the California Department of Forestry and Fire Protection, San Diego County fires burned more than 369,000 acres, destroyed or damaged more than 2,900 commercial and residential properties, caused seven deaths and more than 120 injuries, and amassed estimated costs totaling $61.7 million.