The woman was told several times to move off the sea turtle.
A woman on Maui was recorded on video apparently sitting on a green sea turtle (Chelonia mydas) at Ho'okipa Beach Park, and in spot of several calls for her to move off the reptile, she apparently went about her business, apparently sitting on the turtle's flipper, until she picked up her boogie board and walked back toward the water.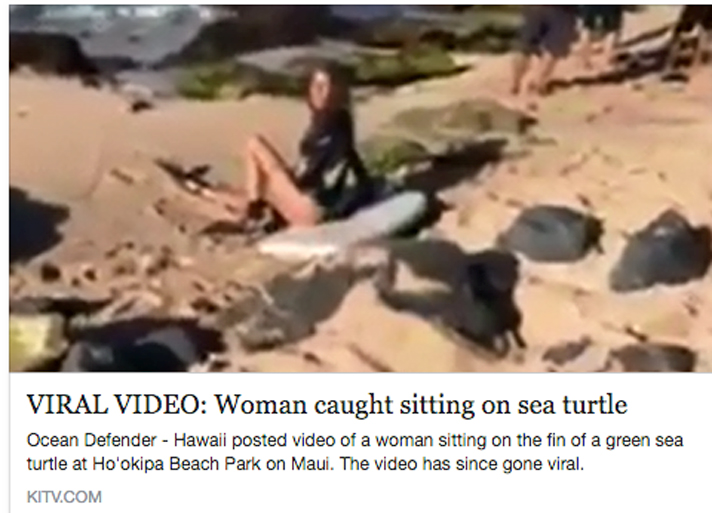 Ocean Defender/Facebook
The woman in the screengrab apparently was sitting on the flipper of a sea turtle who had hauled out on a beach on Maui.

The video was captured by Oriana Kalama, founder of the environmental group, Ocean Defender on Maui. The group posts on its Facebook page and other social media what it sees as negative interactions people have with the ocean and the animals that live in it.
The video is not all that clear, but Kalama told KITV.com that the woman was sitting on the sea turtle.
Advertisement
Honolulu, Hawaii news, sports & weather – KITV Channel 4
Hawaii has been a focal point for questionable human/sea turtle interactions in the last few months. The green sea turtle, or honu, are, like all sea turtles, a federally protected species. While the state doesn't have any specific laws with regard to the distance people must keep from the reptiles, it is advised that people stay 150 feet away from the reptiles so as not to stress them out.
---
Want To Learn More?
Two California Men Admit Guilt, Pay $750 Each For Harassing Sea Turtle In Hawaii
Advertisement
Airbnb Chastised For Airing Commercial Featuring Tourist Touching Hawaiian Sea Turtle
---
Last month, two men from California were fined $750 each for picking up a juvenile sea turtle and taking selfies with the hapless reptile. Vacation rental company AirBNB was forced to remove an advertisement that depicted tourists wanting to see turtles in the water, but then showed video of one of the actors actually touching the turtle as it swam. Touching a sea turtle is against state and federal law. On top of the protections these reptiles are afforded, native Hawaiians consider the honu as a symbol of wisdom and good luck. The turtle also represents the navigator and the link between man, the aina, or land, and the sea.