Bluetooth developer works on device to shorten beach closure times during sea turtle hatching season.
When do sea turtle eggs hatch exactly? That is a question on the mind of a technology developer who is working on a new project to help better determine when sea turtle eggs are about to hatch.
Eric Caplan, founder of Frontline Test Equipment, a company considered a world leader in Bluetooth protocol analyzers and founder of the Hatteras Island Ocean Center, a non-profit based in North Carolina, believes that the technology would enable counties on the Eastern Seaboard to better determine how long beaches where turtle nests are located should be closed to the public during hatching season.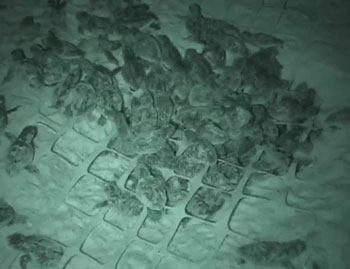 Hatchling sea turtles. Photo from Hatteras Island Ocean Center Facebook page.
According to the Outer Banks Voice, the project is funded largely by IBM and is called Turtle Sense. This turtle season, employees with the National Park Service and IBM will place sensors in four nests to start the data gathering process. These sensors will transmit temperature (and in the future, sound and movement) data to the nest watchers via cell phone. Kaplan and National Park Service wildlife biologist Britta Muiznieks say that sound is being added to the data collection because studies have shown that ambient temperature isn't accurate in determining when eggs are ready to hatch. That data will be overlaid with human observation of the nests to record when the eggs in the nest hatch. It is hoped that the sensors will then be tweaked to better predict when eggs in the nest are about to hatch, which could reduce the amount of time that beaches are closed to protect the sea turtle eggs and the hatchlings.

"We are hoping that by simultaneously measuring movement and temperature fluctuations and entering this into a computer model that will analyze the data from each nest every two hours, we will be able to accurately predict hatching events" Muiznieks told the Outer Banks Voice. "We need to make sure that the shifting of eggs that occurs naturally within a nest can be distinguished from the shifting of eggs as the hatchlings emerge from their eggshells."
---
Want to Learn More?
Sarasota Florida Police Officer Rescues 100 Sea Turtle Hatchlings
Advertisement
Leatherback Sea Turtle Hatchlings Crushed to Death in Trinidad and Tobago Erosion Mitigation Debacle
Irene Destroys Sea Turtle Nests up and Down Florida's Coast
---
Kaplan and Muiznieks say that the process of tweaking the sensors and establishing which data to collect will take some time and that the outcome of Turtle Sense is uncertain. If Turtle Sense is successful, it could be applied in other areas of the world where sea turtles nest.
Advertisement