Click image to enlarge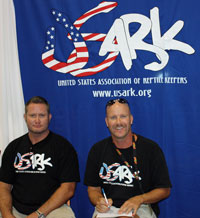 USARK Booth Daytona.
Last weekend's National Reptile Breeders' Expo (NRBE) in Daytona was a fantastic event in the tradition of what has become the Super Bowl of reptile shows in the United States. The United States Association of Reptile Keepers' (USARK) booth was near the expo entrance, right between two USARK Gold Members; Chad Brown of AllProShipping and ShipYourReptiles, and Tracy Barker of VPI Inc.
It was a lot of fun to see the Reptile Nation turn out in force and it's great to finally be able to match faces with names. The newly-renovated venue was very large and easily handled the massive crowd. It seemed like there were 10 miles of tables. Wayne Hill, the expo's promoter, did an outstanding job of putting on another first-class event.
Of course, the animals were fantastic. One of the highlights for me was the Golden Eye Blood Pythons at the VPI booth. Tom Crutchfield didn't disappoint with his blue iguana, albino iguanas and the spectacular Dominican Red Haitian Boas.
I had great conversations with Russ Case and Sandy Quinn from REPTILES Magazine on Friday night at the Advances in Herpetoculture Symposium. During opening remarks Bill Brant and Bob Ashley announced that the North American Reptile Breeders Conference (NARBC) would hold fundraising auctions at their three shows to benefit USARK and the Pet Industry Joint Advisory Council (PIJAC). I made a few remarks thanking Bill and Bob, and emphasized the need for the Reptile Nation to stand united with the pet industry in the face of all of the legislative challenges that our respective communities will face this fall.
At the USARK booth we signed up many, many new members. Our black T-shirts sold like wild fire. Most importantly we had approximately 800 letters to Senator Bill Nelson opposing S. 373 signed by his Florida constituents. They will all be hand delivered by our lobbyists to Senator Nelson's office.
Aside from membership and merchandise sales, we held a 50/50 raffle. Susan Nowicke from the San Diego Herp Society won $730. Kathy Love and Katie Haluska held a corn snake hobbyist dinner to benefit USARK and raised more than $1,400.
All in all the Daytona expo was a great success in challenging times. I think we raised awareness about the difficulties we will face this fall, while having a lot of fun. Thank you to all who made this big event a success. If you have never been to the Daytona show make sure you attend next year. There is nothing else like it. People come from all over the world. It is truly the Super Bowl of reptile events.
Advertisement
Andrew Wyatt is the President of the United States Association of Reptile Keepers (USARK) and has been an avid herp enthusiast for more than 35 years. He has traveled the world and has had his animals featured in a number of television productions. For more information about USARK, click here .