Two-headed rat snake will soon be on display at Cameron Park Zoo in Waco, TX
A two-headed rat snake that was found in Waco, TX has been gifted to the Cameron Park Zoo and is apparently doing well. The baby snake has two heads, each having its own neck and is about 12 inches in length and is about six to eight weeks old, according to zoo officials. Zoo officials said a woman's dog had chased the snake under her porch, and upon inspection, noticed it had two heads instead of one.
Advertisement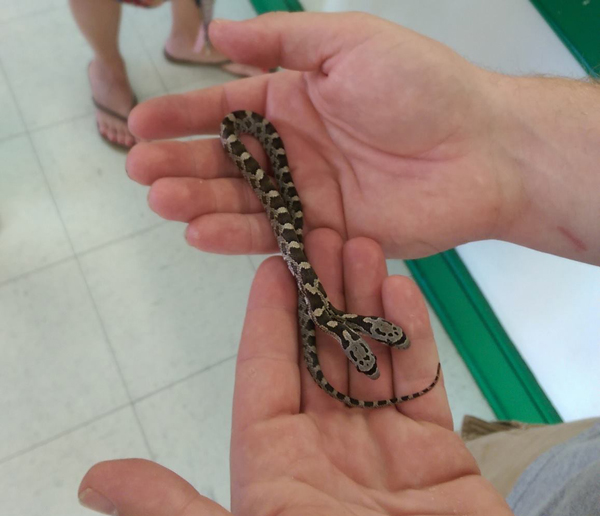 Cameron Park Zoo/Facebook
A wild two-headed rat snake has found a new home at the Cameron Park Zoo in Waco, TX.

One head just recently ate and the zoo said on its Facebook page that it will alternate feeding each head. The snake is currently in quarantine, and after the 90 day quarantine is successfully completed, the snake will be available for the public to view.
So if you are near Waco, TX and want to check out a rare reptile, you will be able to in about three months at the Cameron Park Zoo.
Advertisement
Rat snakes are fairly common in Texas and much of the Southwest. They can grow to about five feet in length and are popular, along with their corn snake cousins, in the hobby.