The tortoise twins were successfully separated the second week of October
Garden State Tortoise and theTurtleRoom hatched out twin Western Hermann's tortoises (T. h. hermanni)October 12, 2015. The twins, named Bumblebee and Yellowjacket were attached to each other by a yolk sac. Owner Chris Leone immediately knew the twins faced some immediate challenges. Leone placed then in an incubator and let them absorb their yolk sac. They were successfully separated the second week of October and have been doing well ever since.
Advertisement
According to Leone, two tortoises coming from a single egg usually don't do too well, either one of the tortoise's is dead or both are dead or they are conjoined, so having two tortoise's come out healthy from a single egg is surprising.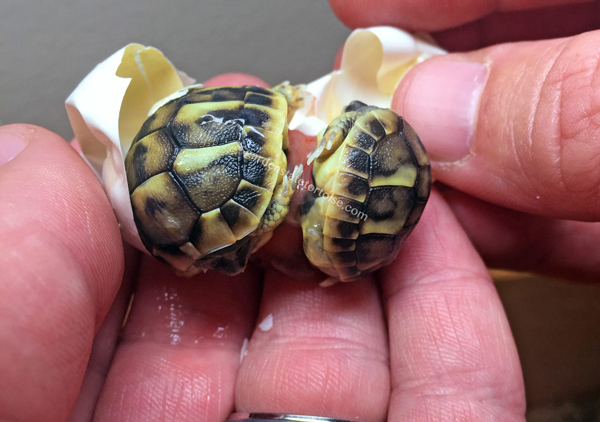 Garden State Tortoise
These Hermann's tortoise twins were connected via a yolk sac.
Advertisement
Bumblebee and Yellowjacket are now viral celebrities, with Leone signing release forms with CNN, NBC and other news organizations who want to cover the twins. Check out the Garden State Tortoise Facebook page for more on Bumblebee and Yellowjacket!