The club will educate attendees of the event on how to keep chelonians.
If you live in Southern California and are considering keeping a turtle or tortoise, then you should definitely check out the California Turtle and Tortoise Club Valley Chapter information and adoption show, May 19, from 11 a.m. to 4 p.m. at the Woodland Hills Christian Church, 5920 Shoup Ave. in Woodland Hills.
Advertisement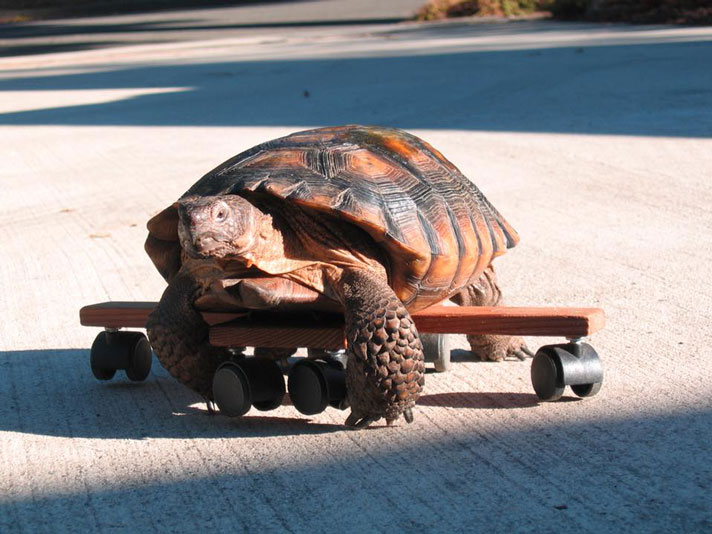 With permission from the California Turtle and Tortoise Club Valley Chapter
Speedbump was hit by a car and moves about with the help of this custom wheelchair.

On hand will be baby turtles and tortoises, as well as rescues that were brought to the club, one which came to the CTTC with a necrotic right leg that had to be amputated, and another that was hit by a car and uses a custom wheelchair to move about.
The club will educate attendees of the event on the current status of native species, such as the Mojave desert tortoise, which is in decline.
Advertisement
---
California's Desert Tortoise Populations To Be Strengthened By Military Head Start Program
---
"An example close to home is the Mojave Desert tortoise. It's California's official state reptile but very few are left. When comparing their 2018 population to what it was in the 1980s, 90 percent of them have disappeared from the desert," a club spokesperson told NBC 4 News.
The Turtle & Tortoise show will also provide information on adoptions, how to care for turtles and tortoises, and how to help in the conservation of chelonians. There were also be a raffle, an "Ask the Vet" booth, and of course, turtles and tortoises.
Advertisement
Admission is $3 for adults and $2 for seniors and children aged 6 and up. Active duty military, and children under 5 are free. All proceeds from the show will go to veterinary services for turtles and tortoises waiting to be adopted, as well as the club's educational outreach programs.