Tiger snakes are one of three venomous snake species on Tasmania.
A tiger snake (Notechis scutatus) recorded on video crawling on a wire fence at Bangor Vineyard Shed in Tasmania has garnered quite a stir on social media after the vineyard's owner, Matt Dunbabin, captured the snake performing its high wire act, on his iPhone.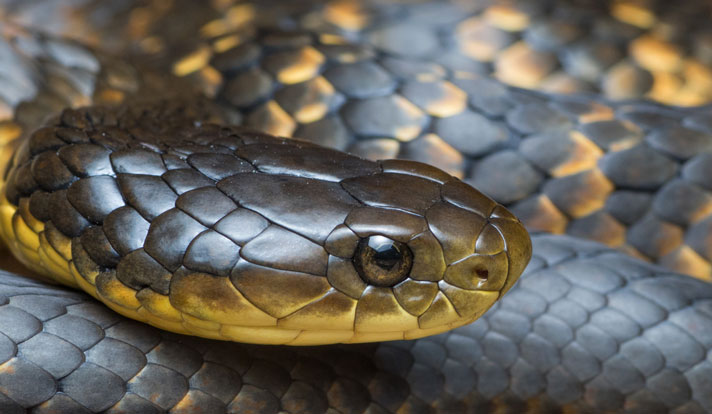 Adam Brice/Shutterstock
Tiger snakes are one of three venomous snake species on Tasmania.

"Who knew a snake could cause such a stir," Dunbabin told The Age.
Dunbabin said that he never saw anything like it and shot the video. The species are known to climb, according to Ian Norton of Reptile Rescue, but this particular instance was peculiar to say the least.
Advertisement
Tiger snakes are such crafty buggers! They can can climb just about anything. Like this one scaling a farm fence. I even come across one swimming (which I mistook for a platypus) when I was kayaking In the Glenelg river, Victoria as a kid. Video credit/source: Bangor Vineyard Shed

Posted by Wild Touring on Wednesday, February 14, 2018
"I think for this snake, it is more of an inquisitive act," Norton told The Age. "It seems totally random. He really doesn't seem to really have a plan.
I have seen them on house gutters acting in a similar manner, but this is definitely outside of all the norms of what we would expect from snake behaviour."
The tiger snake is considered one of the most venomous snakes in Australia and is responsible for many snakebite deaths. It grows to about 3 feet in length and are known climbers. It is one of three snake species found on Tasmania, all of which are venomous.