Thieves have stolen reptiles from Repxotica Rare Reptiles before and the store has retrieved them successfully.
On September 2, two thieves apparently stole a leopard tortoise (Stigmochelys sp.) from Repxotica Rare Reptiles in West Islip, NY and the entire crime was captured on the reptile store's surveillance system.
"For Mr and Mrs scumbag, who stole the leopard tortoise today, we have the whole thing on crystal clear video, and a crystal clear pic of your license plate," the store wrote on its Facebook page.
---
---
The couple, a man and a woman, apparently distracted an employee and then were able to somehow leave the store with the leopard tortoise, according to the West Islip Patch.
The couple then fled in a black Ford F150 truck.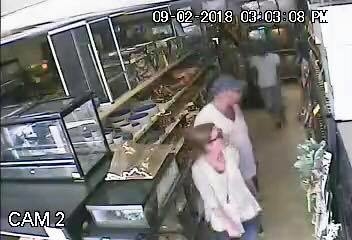 Advertisement
Repxotica Rare Reptiles/Facebook
Surveillance footage of the couple accused of stealing a leopard tortoise.

"I will post your license plate shortly to the public —- black ford f150 just so you know," the store wrote. The store owner is giving the thieves the chance to return the reptile. The store has had thefts before and the animals stolen have all been returned successfully, according to the store's Facebook page.
If you know anything about the crime, contact Suffolk Crime Stoppers at 1-800-220-TIPS, or the store at (631) 482-9500.
Advertisement