The neighbor said he feared the tortoise would bite someone.
A pet tortoise in Indiana who escaped its fenced yard, was shot and killed by a neighbor and the Boon County Sheriff's Office in Zionsville, Ind. is investigating the incident.
Merlin, a 65-pound sulcata tortoise (Centrochelys sulcata) escaped his enclosure August 31. His owner, Tasha Chapel posted notices that her pet was missing.
Advertisement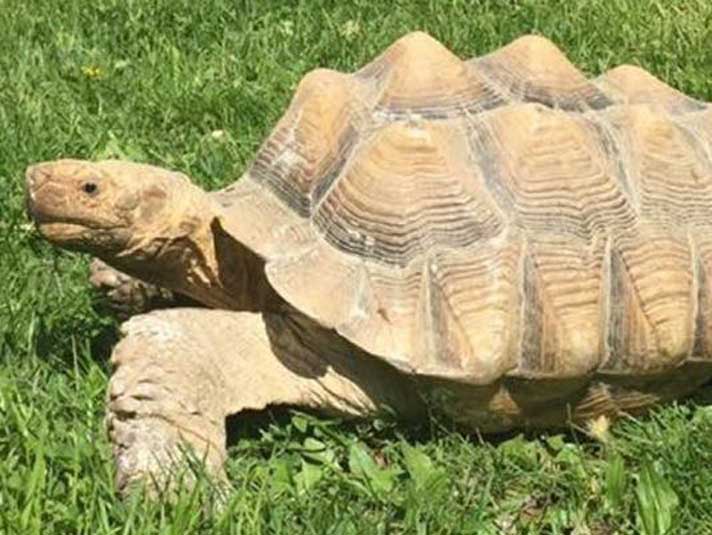 Tasha Chapel
Merlin was shot and killed by a neighbor who feared the reptile would bite someone.

"It's cold so he is probably burrowed in to keep warm. Please help!! He is about 65lb land tortoise (cannot swim) friendly and curious. Probably a bit scared. Will put himself up for the night at dusk," she wrote on Facebook. "He is our very loved pet and we need our big guy back!"
Advertisement
---
Read More
The Vet Report: Sulcata Tortoise Spine Abnormality
Sulcata Tortoise Health Problems
---
There were sightings of the tortoise walking down the street, but nobody called.
Advertisement
Merlin then wandered onto a neighboring farm and the farm owner shot and killed him, according to Fox59.com. The man shot the tortoise in the head, saying he feared the reptile might bite someone. He then notified Chapel.
"I said I hope you know you just killed our pet of 16 years and I have to tell my 15-year-old son that you just shot his pet," Chapel said. "They're beautiful and they're supposed to be in our lives for 60 to 80 years. It's not even a quarter of his lifespan."
"He could have called police, he could have called any of the vet clinics around here, there are a ton of them around here," Chapel told Fox59.com. "He could have called Boone County Humane Society."
Advertisement
The Boon County Sheriff's Office is working with the Department of Natural Resources on the investigation along with the State Board of Animal Health and Boone County Prosecutor's Office.
"Further information regarding possible criminal charges and the details of this incident will be provided at a later date after the investigation is complete," the sheriff's office said. "The welfare of all who reside in Boone County is priority, whether human or animal."
No charges have been filed in this case.
Advertisement