Garth Pithan loses 75 of 100 reptiles in a basement fire that also destroyed his Washington home.
The owner of a traveling reptile show in Longview, WA, lost his home and the majority of his reptiles to a fire last week. According to a news report on Oregon Live, Garth Pithan, who owns the Reptile Road Show, was running errands when his brother called to tell him his house was on fire. Pithan rushed home to find his house destroyed and 75 of his estimated 100 reptiles killed by the fire.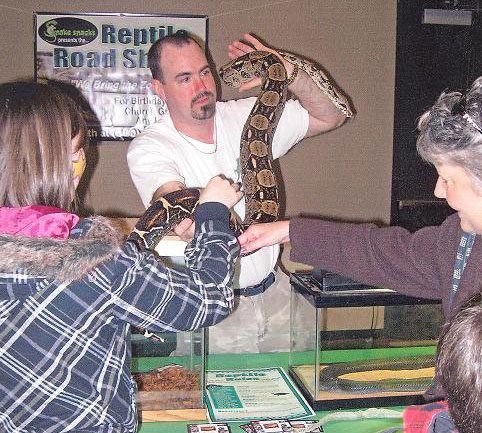 Photo courtesy Reptile Road Show Facebook page
Garth Pithan lost 75 of 100 reptiles in a basement fire that also destroyed his home.
"I lost TVs and clothes and didn't shed a tear for any of them because they're just stuff," Pithan, 41, told Oregon Live. "But I've raised many of those animals since they were babies and no amount of money can replace what they meant to me."
Advertisement
The fire apparently started in the basement of the house where he kept his collection of reptiles. The survivors, including a nine-foot red-tailed boa constrictor (Boa constrictor imperator) and a 70-pound sulcata tortoise (Centrochelys [Geochelone]sulcata) will be housed at Pithan's parents house until he plans his next moves.
Pithan started the Reptile Road Show in 2007 and took his show to area schools, fairs, and birthday parties to educate children and adults about reptiles. Condolences, which are coming from all over the United States can be made on the Reptile Road Show Facebook page.