Even though the radiated tortoise is captive bred, the critically endangered species is still poached from the wild.
On April 10, local police in Madagascar discovered more than 10,000 (ten thousand) critically endangered radiated tortoises (Astrochelys radiata) languishing in a private home in Toliara, Madagascar. According to the Turtle Survival Alliance, nearly every floor in every room in the house was covered with the tortoises, and as of April 13, hundreds had died due to dehydration and illness.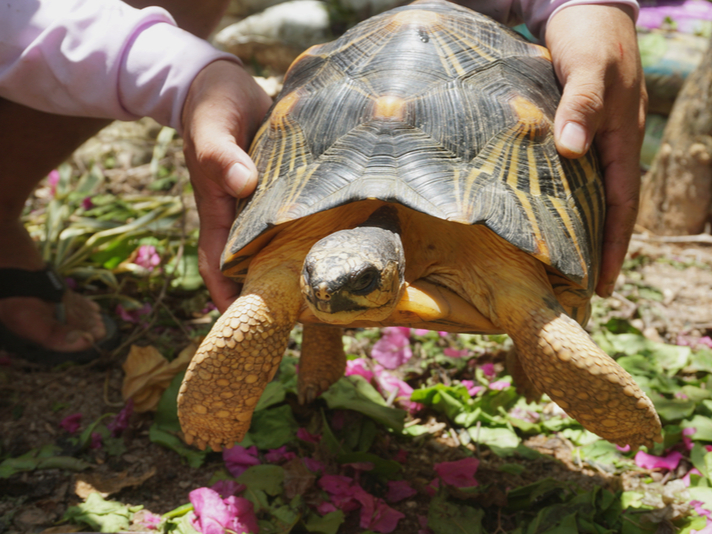 seasoning_17/Shutterstock
A healthy radiated tortoise.

"I don't think the word overwhelming comes close to describing what the Turtle Survival Alliance is dealing with here," Rick Hudson, President of the Turtle Survival Alliance said in a statement released by the TSA. "We were already caring for 8,000 tortoises in Madagascar, now that number has more than doubled overnight."
The TSA is now coordinating with the local authorities in Madagascar to get these chelonians the medical care that they need, and zoos and aquariums in the United States and around the world have stepped up to assist. These include Abilene Zoo, Bronx Zoo/Wildlife Conservation Society, Columbus Zoo and Aquarium, Dallas Zoo, Dickerson Park Zoo, Georgia Aquarium, Fort Worth Zoo, New England Aquarium, Oklahoma City Zoo and Botanical Garden, San Diego Zoo Global, Shedd Aquarium, Tennessee Aquarium, Topeka Zoo and Conservation Center, Tulsa Zoo, Utah's Hogle Zoo, Zoo Knoxville, Zoo Atlanta. In addition to these AZA organizations, the TSA's efforts are being supported by global conservation partners Aktionsgemeinschaft Artenschutz (AGA) e. V., Durrell Wildlife Conservation Trust, ProWildlife v. E., SOPTOM-Village Des Tortues, Tanganyika Wildlife Park, and the Turtle & Tortoise Preservation Group and the Auckland Zoo in New Zealand.
"The immediate response of more than 20 AZA-accredited facilities, offering their expertise and assistance to care for thousands of tortoises in Madagascar, is proof we will take whatever action is necessary to address illegal wildlife trade and other threats that put the world's most vulnerable species at risk of extinction." said AZA President and CEO Dan Ashe. "Through programs like SAFE: Saving Animals From Extinction and the U.S. Wildlife Trafficking Alliance, AZA and its members are engaging in critical, coordinated, and needed conservation work."
The TSA and AZA partners are sending support teams to Madagascar in what the TSA described as waves, on its Facebook page. These two week-waves will include veterinarians, veterinary technicians, pathologists, husbandry technicians, communications specialists as well as necessary supplies to save as many tortoises as possible. The first team of 13 experts left for Madagascar today, April 20.
The TSA is asking for donations to help offset the costs of this massive relief and rescue effort. You can donate at the Turtle Survival Alliance donation page.