The 6-year-old, 3-foot long reptile spent more than 10 hours on the lam.
A 6-year-old monitor lizard kept police in Yorkville, Ill at bay for more than 10 hours after the reptile escaped its enclosure and decided to hole up in a city storm drain.
Police responded to a "found animal" report just past 10:30 a.m. August 30, and when they arrived on scene, they found a 3-foot monitor lizard basking in the sun, according to the Chicago Tribune. When police approached, it promptly retreated into a nearby storm drain, out of the officers reach.
The police considered the "possible territorial and aggressive nature" of the lizard as well as the proximity of the lizard to residences and decided to work on removing the reptile from the storm drain. But removing the reptile from its hiding place proved to be more difficult than anticipated.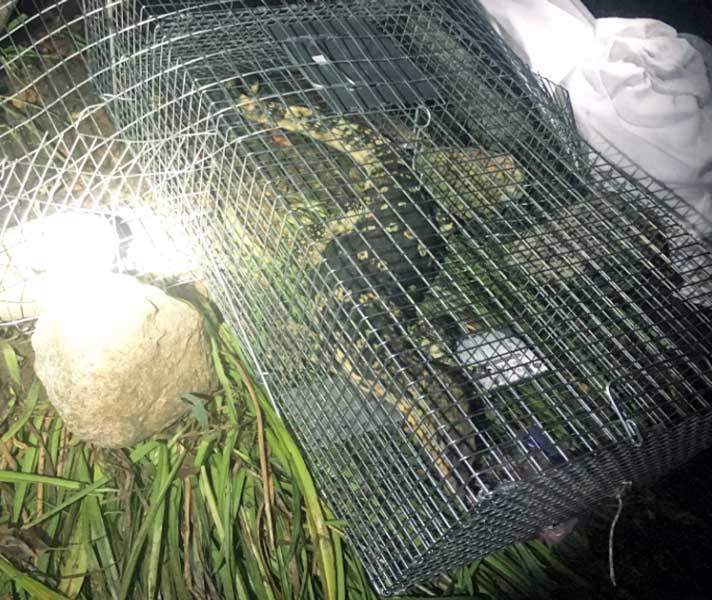 yorkville police department
After 10 hours, the 3-foot long monitor lizard was captured.
Advertisement
"Multiple times, the lizard came within inches of the openings only to re-enter the storm drain and avoid capture," police said in a statement.
Lizard capture in Yorkville

Posted by WSPY on Wednesday, August 30, 2017
After several failed attempts during the 10 hour extraction, the authorities decided to block off one area of the drain pipe and set a live trap on the opposite side of the drain, and were successful.
The owner was found, and was unaware the lizard had escaped. Police determined the lizard was legally owned and met all housing requirements. No charges were filed.
Advertisement