Bubbles was found by a Los Angeles man who took the time out to search for him.
Bubbles is back and his owner is happy to have him back. The 6-year-old black-throated monitor lizard escaped through a 2-inch-by-5-inch opening between the bottom of the enclosure and the ground on March 4.
Advertisement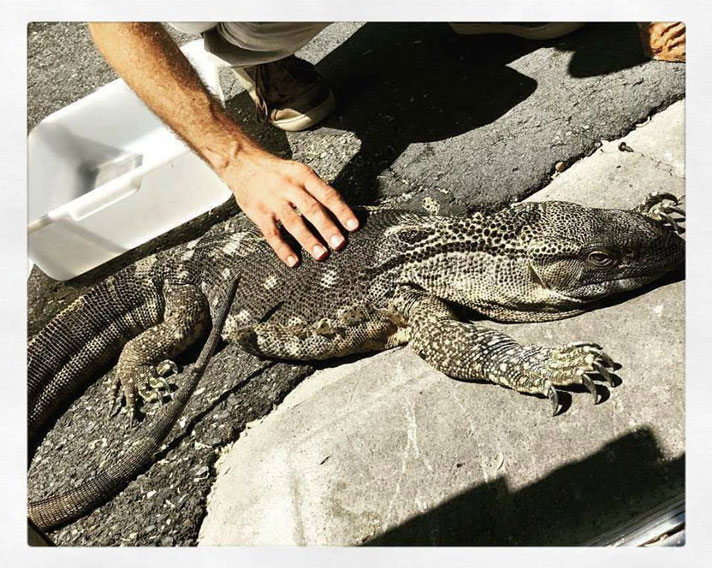 Mike's Pets/Facebook
A man from Los Angeles, Calif. found Bubbles about 75 yards from Mike's Pets, on a hillside, sunning himself.

A man from Los Angeles, Calif. who was on a business trip in San Diego heard a news report of the missing lizard while he was driving in his car and decided to try and find the reptile, according to KUSI News. The unidentified man went to the store and started searching the surrounding area. He located Bubbles about 75 yards behind the store on hillside, sunning himself, but Bubble's didn't really want to return just yet, it seemed. Had Bubbles been in another part of the United States instead of sunny San Diego, Calif., things might have turned out for the worse, but luckily he wasn't.
"He didn't even recognize us (at first) … . He got a wild instinct just from four days," Jim Kmet, manager of Mike's Pets in Spring Valley, Calif. told KUSI. "It took him a long time to calm down."
Advertisement
But when he was brought back to the store and given food and water, the big lizard calmed down a bit. But his five or so days on the lam will not go without changes. The store's owner is looking into a screen door at the rear of the building, where Bubbles pushed his enclosure out of the way to gain access to the outside.
"It was unfortunate, but we learned our lesson," Kmet told KUSI.