Merlin the sulcata tortoise was just 16 years old when he was shot and killed.
Do you remember the case of a sulcata tortoise (Centrochelys sulcata) named Merlin who wandered onto an Indiana sheep farm and was shot and killed by the farm owner who apparently thought the reptile was dangerous?
Well, the farmer, Brandt Lawson, reached a settlement with Tasha Chapel-March for more than $1,400. After an investigation last year, Lawson was charged with criminal mischief and on May 17, 2018, Lawson paid $1,400 in restitution and $334 in court costs and filing fees.
---
Sulcata Tortoise Escapes Its Yard, Is Shot And Killed By Neighbor
Man Who Shot And Killed Pet Tortoise Faces Charge Of Criminal Mischief
---
Chapel-March acquired Merlin and another sulcata tortoise named Daisy in 2001 as hatchlings and cared for the both of them until the farm owner shot and killed Merlin.
The killing of the tortoise generated outrage on social media. At the time, Lawson apparently told Chapel-March that he killed Merlin because he thought Merlin was dangerous. Merlin then somehow ended up with a taxidermist, but before the reptile was preserved, Chapel-March gained possession of him.
Advertisement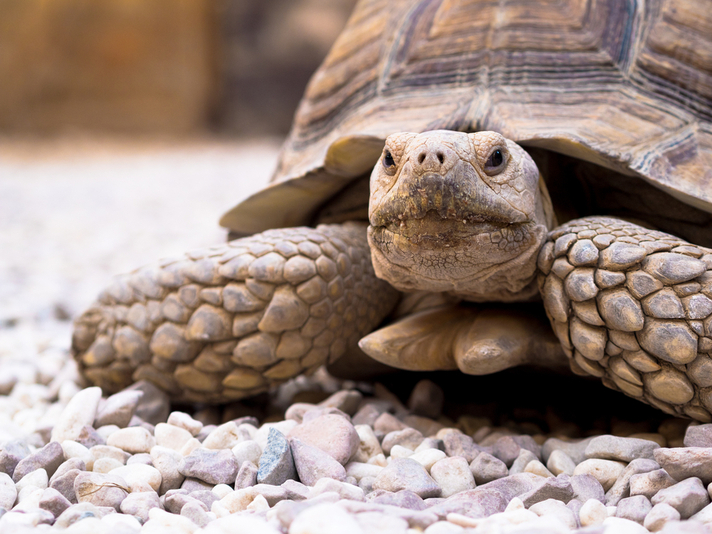 repina valeriya/shutterstock
Sulcata tortoises are tiny as hatchlings, live very long lives, and can grow to exceed 100 pounds.

"To know that someone willingly and knowingly shot and murdered a honest-to-God dinosaur that is the most beautiful creature I've ever seen is devastating," Chapel said at the time Merlin was shot and killed.
Advertisement
Sulcata tortoises, while cute as babies, grow quite large and require specialized care for the duration of their lives, which can easily exceed that of their keepers.