Excavation work near popular Mt. Plaisir Estate Restaurant and Hotel also crushes untold number of Dermochelys coriacea eggs.
Thousands of leatherback sea turtle hatchlings were killed July 7-8 in Trinidad and Tobago when a Ministry of Works job to redirect the Grande Riviere River used excavators that inadvertently crushed the hatchlings and nests on the adjacent beach, according to a news report in the Trinidad Express online.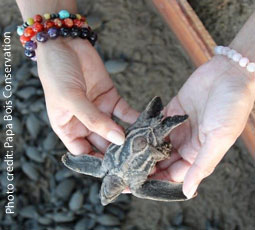 Advertisement
Papa Bois Conservation
This leatherback hatchling did not survive
According to the report, the Ministry of Works was called to shore up the Mt. Plaisir Estate Restaurant and Hotel and other dwellings near the river and beach front. While the dwellings were seemingly saved from some erosion, many hatchlings and eggs were not.
The killing of the leatherback hatchlings and the disruption of the nests could have been avoided had the Ministry of Works coordinated with the proper agencies and proper land zoning had taken place, according to Marc deVerteuil of Papa Bois Conservation. DeVerteuil suspects that the excavation took place without a proper Certificate of Environmental Clearance from the country's Environmental Management Authority.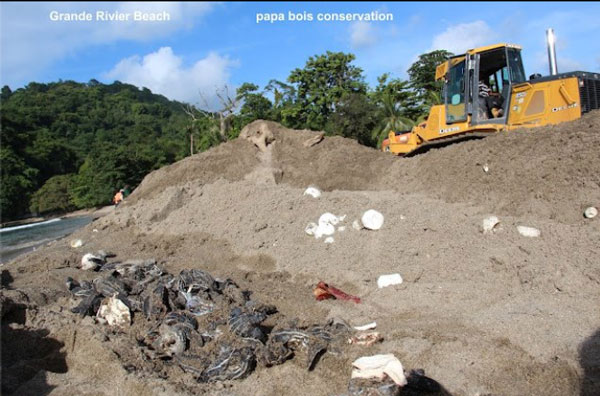 Advertisement
Papa Bois Conservation
Dead leatherback hatchlings and eggs strewn across the beach in Trinidad and Tobago.
The Mt. Plaisir Estate Restaurant and Hotel is a popular ecotourism destination and is known as the most popular hotel to stay during turtle nesting season. It is adjacent to zone four of the Grande Riviere, what conservationists say is the third most abundant sea turtle nesting site in the world. Hotel owner Piero Guerrini was also in a bit of shock. On the one hand the erosion needed to be stopped but what has happened here is not right, he said.