Venom 2 will get antivenin to those in need much faster.
Florida is a big state with lots of venomous and non-venomous snakes. Up until recently, the main location of its venom response team was found only in Miami. Called Venom One, the facility holds antivenin and distributes it mainly in south Florida. A second team, called Venom Two was recently opened in central Florida, reducing the wait times for those north of south Florida who have been bitten by a venomous snake and are in need of potentially life-saving treatment.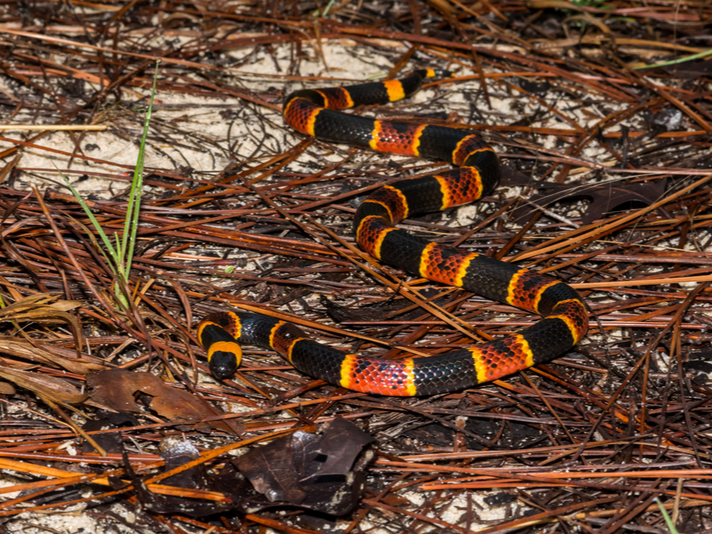 Jay Ondreicka/Shuttertstock
Eastern coral snake (Micrurus fulvius).

"Time is tissue," Dan Miller of Lake County Fire Rescue told WFTV9. "The faster you can recognize what type of snake it was, the faster you can get the correct anti-venom to the patient, and ultimately they'll have a better outcome."
---
Florida Man Survives Coral Snake Bite
Man in Florida Gets Bit By Rattlesnake As He Tried To Kiss It
---
Venom Two members trained with the Venom One team for a year before forming the Venom Two team. The central location of Venom Two will make the life saving antivenin much closer in areas north of south Florida. In addition, the team has done training with snake hooks as well as snake identification and will educate the public on the difference between venomous and non-venomous snakes.
"It's a benefit to the citizens all over," Miller said. "We're four hours closer to the rest of the state than Venom One, so we help them. We can get the anti-venom to the people in need a lot quicker."
Venom Two has already responded in Tallahassee, and it was due to a non-native cobra bite.
"I had a cobra bite come to me from Tallahassee, and cobras are not indigenous to Florida. Not many places have the anti-venom," Dr. Benjamin Abo, medical director of Venom One and Venom Two told WFTV9. "So we were able to get some anti-venom, but only part of the dose from another venom bank. Venom One was able to meet Venom Two part way, and we could continue delivering it."
Both venom banks will carry antivenin for native snakes and may eventually include non-native species.