The snake will spend six to eight weeks recovering from surgery at the facility.
A coastal carpet python (Morelia spilota mcdowelli) in Australia has gotten a second chance at life thanks to a snake handler who captured the reptile, and the herp vet who performed surgery to remove a shoe that the reptile had eaten.
Well that happened very quickly. We have reached 1000 likes on the last post (and just did an interview in the process). As promised here is the video. The video shows the shoe coming out of the stomach with minimal effort. Care was taken to minimise the risk of spillage and contamination of the surgical field and new gloves and instruments were used for closure. ***AGAIN, GRAPHIC CONTENT, VIEWER DISCRETION IS STRONGLY ADVISED***

Posted by HerpVet on Monday, March 26, 2018
After determining that helping the snake regurgitate the slipper wouldn't be ideal, Dr. Josh Llinas of Greencross Jindalee Veterinary Clinic in Queensland, Australia, prepped the snake and cut a 45cm incision in the snake's belly and safely removed the slipper that the 6.5 -foot (2m) had ingested.
Advertisement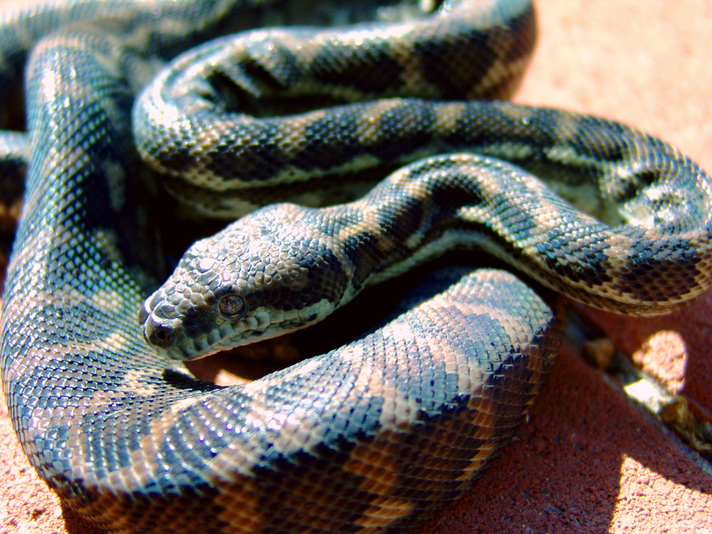 sharyn/Shuttestock
Coastal carpet pythons are a stocky, medium-sized python that is native to Australia and New Guinea.

"I decided it was one that was going to come out manually," Llinas told The Courier-Mail. "Sometimes you can remove the foreign bodies by helping them after they've been relaxed … by helping them move it up the digestive tract and out of the mouth.
Advertisement
"This was just way too big and it wasn't going to come out," he said.
Llinas performed a procedure called a "coeliotomy and gastrotomy" to remove the foreign body from the snake's stomach. Llinas told The Courier-Mail that the snake will spend approximately six to eight weeks recovering from its surgery. Interestingly though, Llinas has seen an uptick in snakes eating the strangest things.
---
---
"In the last couple of months, I've had quite a few foreign bodies removed from snakes," Llinas told the Courier. "I had a pillow case removed from a black-headed python, and just a few months ago, I had a tennis ball removed from a snake. This was probably one of the more unusual things I've removed. I've heard of others swallowing thongs, stuffed toys. You name it, they will eat it."
---
---
Carpet pythons are native to Australia and New Guinea and are a hardy medium sized python. They are called carpet pythons due to their beautiful colorations that some say look like the patterns and colors of the woven carpets of the Middle East. There are a range of subspecies of carpet python and they are also widely bred in the reptile hobby.
Advertisement