Two-time tour winner is no stranger to reptiles.
Kudos to professional golfer Boo Weekley who this week came to the rescue of a water moccasin at the Honda Classic in Palm Beach Gardens, Fla. According to Golf.com, the two-time PGA Tour winner was about to tee off when he heard course marshals discussing how to remove the snake from the course. That is when Weekley, a Florida resident who has perfected an alligator call, came in and used his years of reptile experience to remove the snake out of harm's way.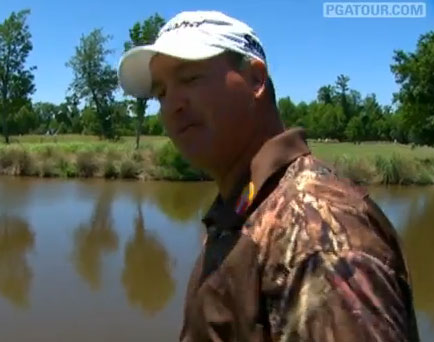 Advertisement
Video grab courtesy PGA Tour/YouTube
Boo Weekley moved a water moccasin out of harm's way during the 2013 Honda Classic.
"He blended in perfectly with the grass, wasn't but 18 inches long, but he was good enough that he could have bit you and hurt you pretty bad," Weekley, who was named after cartoon character Yogi Bear's sidekick, Boo-boo bear, told Golf.com. "A guy come running up to us right before we teed off and when we got done I told the guy not to worry about it. I took my driver and turned it over and just moved him." Weekley then teed off, firing a four-under 66 Thursday at the Honda Classic, a tournament in which Weekley received a sponsor's exemption to enter.
Read about water moccasins here.
Advertisement
Read more about reptile and amphibian interactions with a golf course here.