Ex Animal Planet host charged with selling Iranian desert monitors to undercover USFWS agents
Donald Schultz, a herpetologist who was the host of the now canceled Animal Planet show Wild Recon, has been charged with illegally selling two Iranian desert monitor lizards, an endangered species, without a permit. A criminal complaint was filed in Los Angeles. According to a Los Angeles Times report, in July 2010 Shultz advertised the sale of a collection of reptiles on the Facebook social media site. An undercover U.S. Fish and Wildlife Service agent responded and asked for a price list, which one of Schultz's employees apparently supplied. According to the USFWS, there was a line on the list that said Iranian desert monitors $3,000.
Advertisement
After some haggling, the report says that the undercover agent negotiated a price of $2,500 plus $100 to ship to "a guy in New York", who happened to be another undercover USFWS agent. The reptiles were shipped and received by the agent in New York. While Schultz became a licensed wildlife importer in 2006, his license expired in January 2010.
According to the report, the USFWS began investigating Schultz in 2006 after a package of lizards from South Africa was seized in New York. The Times report says that the package was allegedly addressed to Schultz, who apparently was living in Oceanside, Calif. at the time. U.S. attorney spokesman Thom Mrozek in Los Angeles told the Times that Schultz is expected to appear in court October 8.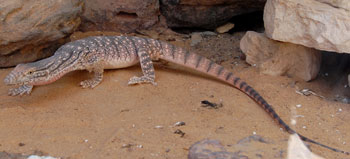 Advertisement
Photo by knockout mouse/Wikimedia commons
Iran monitor lizard.