Paint on a tortoise's shell can cause significant health issues.
A woman in Pasco County, FL was out walking her dog when her dog happened upon a baby gopher tortoise (Gopherus polyphemus) that was painted blue.
Once again I wonder what parents are teaching their children, another gopher tortoise baby painted … This act to a threatened species for the state of Florida is illegal. People collected it from their dog who brought it in and called FWC. Tried for several days with several non toxic removers that we use. Got off as much paint as possible and released the little guy into an a much better home! Please teach your children to respect nature .. on a daily basis we get so many calls that just make us shake our heads and wonder why

Posted by Owl's Nest Sanctuary for Wildlife on Monday, May 14, 2018
"We thought it was a rock because it was painted until it started moving on the floor. It was a little baby turtle. We picked it up instantly and told the dog, no. She didn't know any better," Daylynn Hughes told WFTS ABC Action News.
The estimated 2-year-old reptile was sent to Owl's Nest Sanctuary for Wildlife in Odessa, FL., where the director of the sanctuary, Kris Porter, spent nine days removing the paint from the tortoise's shell.
---
Gopher Tortoises Are Comprised Of 5 Genetically Diverse Groups, Study Says
Florida Teens Who Tortured And Killed Baby Gopher Tortoise Arrested
Minnesota Woman Celebrates 56 Years With Her Gopher Tortoise
---
"Sometimes we get lucky. We've had some others in the past, older ones that had been painted and people see things, but not this time," Kris Porter, Director of Owl's Nest Sanctuary for Wildlife told WFTS ABC Action News. "It gets into their system. You're dealing with a paint product that's going into their shell and their lungs are actually right at the top on a tortoise," said Porter.
Advertisement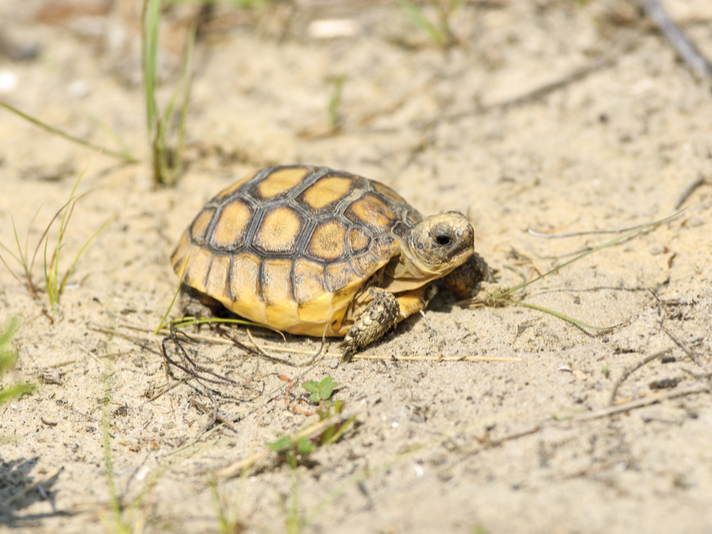 Wildpix 645/Shutterstock
Gopher tortoises are listed as a threatened species in the state of Florida.

Advertisement
Porter contacted Florida Fish and Wildlife about the tortoise and then released the reptile back into the wild. If you have any information on this incident, Florida's Wildlife Alert Hotline at 888-404-FWCC (3922).
Gopher tortoises are protected throughout their range either by state or federal law. Gopher tortoises are listed as a threatened species in the state of Florida. Both the tortoise and their burrow are protected. They reach maturity at 10-15 years of age and are considered a long-lived tortoise.