Fort Myers pizza parlor offers up an exotic pizza with python, alligator, and froglegs.
Got a hankering for some exotic pizza? If you live in southwest Florida, Evan's Neighborhood Pizza in Fort Myers is serving up a specialty pie called the Everglades pizza, and it features meats from herps found in the Everglades, specifically python, alligator and froglegs. Owner Evan Daniell was talking to a friend about the invasive pythons in the Everglades when his friend suggested making a pie with python meat, and the Everglades pizza was born.
Advertisement
"We're selling them left and right," Daniell told the New York Daily News. "It's a happy accident; it's about being creative."
Daniell said the Everglades pizza sells for $45, a bit more than a normally topped pie because the python meat is about $66 a pound. He said the meat is very gamey, so it is marinated to get rid of the gamey taste.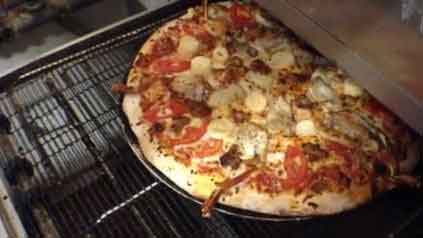 Photo courtesy Evan's Neighborhood Pizza
Advertisement
The Everglades pizza includes python, alligator meat, and froglegs as well as swamp cabbage.
The pizza place's Facebook page has folks talking about the specialty pie, with comments coming from all over the United States, to Jakarta and the UK, all intrigued by the reptilian pie. But that is not all Evan serves up that is unique. For Halloween, the pizza place offered up the 1/2 Price Pizza of Zombie Week, a spaghetti pizza that featured spaghetti on top of the pie, piled up to resemble brains in blood sauce. After the birth of the Everglades pie, he came up with the idea for the Great White pizza, but the great white shark is a federally protected species so that idea was nixed. There was also an idea for a "Roadkill" pizza that would have included armadillo, raccoon, and possum, but Daniell apparently had trouble finding a supplier of those types of meat.
In addition to the Everglades pizza, the pizzeria offers your standard toppings and is also known for its Cheeseburger in Paradise.
Advertisement