Poseidon, a non-invasive Asian water monitor, has been missing for 12 days.
Floridian Kevin Hennings is missing his Asian water monitor (Varanus salvator macromaculatus) and he is hoping that he will find him very soon. Poseidon went missing 12 days ago in Naples Fla., having escaped his outdoor enclosure. Although there have been several confirmed sightings, including the last one on October 23, he has not been found and Hennings is absolutely beside himself and worried sick.
Advertisement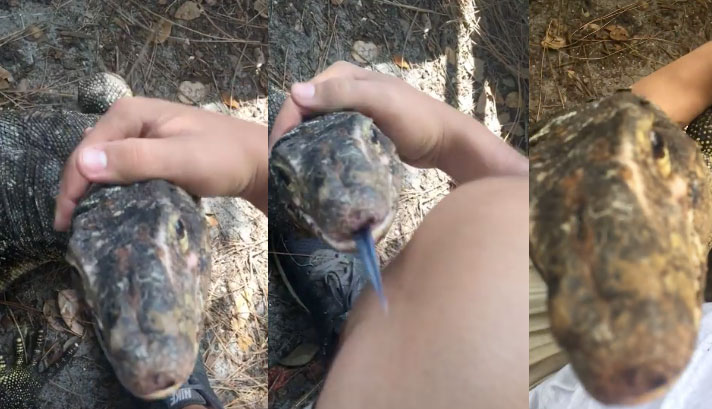 Kevin Hennings/Facebook
Poseidon is a very tame Asian water monitor who has been missing for 12 days.

"I feel absolutely miserable," Hennings told ReptilesMagazine.com. "He is a family member."
During Hurricane Irma last month, a tree fell on Poseidon's 20 x 20-foot outdoor enclosure, damaging it. At that point, Hennings kept Poseidon in an indoor enclosure until he made repairs to the damaged enclosure, Hennings told ReptilesMagazine.com.
Advertisement
Hennings returned Poseidon to his outdoor home and the lizard was somehow able to escape and he still has no idea how he got out. Hennings speculates that the only area that was open was a small gap under the door that Poseidon may have been able to squeeze under, but that gap is just two inches wide. Plus the enclosure was locked and only Hennings knows the combination.
Hennings pointed out that Poseidon is an Asian water monitor and not the invasive Nile monitor (Varanus niloticus) that has become established in south Florida. "We've got a Nile monitor issue in Naples and they are an invasive species," Hennings told ReptilesMagazine.com. "Poseidon is not a nuisance and is not an invasive species as a [Asian water monitor] breeding population has not been established in the state of Florida."
10/26/17 UPDATE ON POSEIDON; Day 12: Poseidon has still not been found — and he has not been seen since Monday, October 23rd in Twin Eagles Golf and Country Club, located off of Immokalee Rd. I have received several reports from residents of Collier County who say they may have seen him other days, but the only photographic confirmation I have received, was from Spencer Rigsby on Monday. For those of you who don't know already, we have already been in touch since the original post. In addition, I had a face-to-face meeting with Florida Fish and Wildlife Conservation Commission (FWC) yesterday afternoon. All local authorities are on the look out and are expecting reports, so if someone sees him, please call and they can get in touch with me directly if my phone number is not available to you. As we all know, this cold front is among us, which means Poseidon will most likely be seen in an open area in the near future, searching for a basking spot to maximize the amount of sunlight that he can collect. This most certainly increases my odds of locating and catching him. My previous posts have been shared countless times and Poseidon has been featured in the news as well, making most Collier/Lee County residents and visitors aware of the situation. I greatly appreciate all your efforts in helping me locate Poseidon. This is a very upsetting time for me — and the community has helped out a tremendous amount, so again, thank you to all of you who continue to support my search for him. For those of you that have been bashing me all over social media, I have to expect it, as everyone is entitled to their own opinion. However, please understand that I have taken all the necessary precautions and steps to ensure that things are done correctly, safely, and as quickly as possible. As I have stated numerous times, I have contacted all the local authorities – so at this point, the majority of the county residents/guests should be aware of the situation. I have done all that I can and I remain optimistic that he will show again in the near future. For those of you who don't know, Poseidon is not an invasive species in the state of Florida, as water monitors have not established a breeding population. Often times, he has been mistaken for an invasive Nile Monitor. Please know the difference between the two. I have attached a screenshot of the invasive species list for Florida in the comments section. If anyone sees him or thinks they see him, please text me a picture so I can confirm or give me a call. My phone number is 239-300-3566 and you can reach me at any time. Thank you so much and I will keep you all updated as new information becomes available.

Posted by Kevin Hennings on Thursday, October 26, 2017
Poseidon is about six feet in length, though Hennings doesn't recommend anyone try to capture him.
Hennings has notified all local authorities, including Florida Fish and Wildlife, the local police and sheriff's departments, and the property management companies where Poseidon has been spotted.
Advertisement
"The more eyes I have the better chances I have of finding him. I am very optimistic and am just waiting for that call that 'I have your lizard,'" Hennings said.
"He is a puppy-dog tame lizard, as they say," Hennings told Fox 4. "As docile as they come, and he's a long-time family member of mine, so I'd like to keep it that way as long as possible."
"He's my dog. You have a dog, I have a lizard," Hennings said.
If you see Poseidon, please call The Florida Exotic Species Hotline: 1-888-IVE-GOT1.
Advertisement