The frog makes its escape after the angler shakes the bass a bit over the side of the boat.
Professional angler Carl Jocumsen of Australia is a U.S. Bassmaster Opens pro and has been fishing the circuit for the last several years.
SECOND CHANCE FROG. Thanks to (Australian) Carl Jocumsen:
Posted by Downrigger Shop on Monday, April 9, 2018
Earlier this month he posted a video onto the Downrigger Shop's Facebook page of what could be one of the strangest catches ever caught on video; a largemouth bass with a frog in his mouth. Jocumsen brings the bass and the frog closer to the camera and you can clearly see the frog sitting in the fish's wide and large mouth.
"Never seen this in my life," Jocumsen says.
The professional angler then positions the bass over the side of the boat and after a few shakes of the fish, the amphibian jumps out and swims off.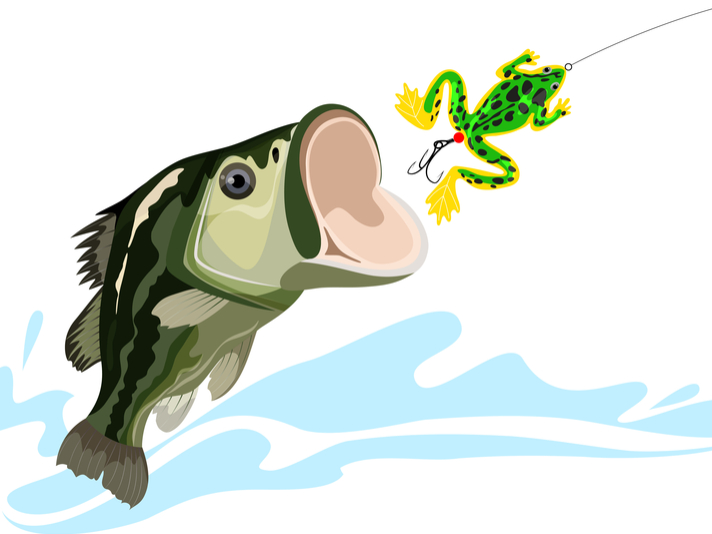 AlenaPo/Shutterstock
There are largemouth bass lures designed to mimic the action of a frog.
Now, frogs are natural prey to these big bucket mouths, some of which can grow to more than 20 pounds (9 kilograms). Some of the most popular artificial lures amongst bass anglers are the frog baits, often a silicon bait crafted to resemble a frog. This frog got extremely lucky and gets to live another day.
This isn't the first time a frog was captured in a fish's mouth. Back in 2014, we posted an image on the REPTILES Facebook page of a treefrog in the mouth of an Australian jungle perch. That image received more than 5 million views on the page.