See a bearded dragon from a different perspective.
Have you ever wondered what your beardie looks like up close? As in super macro up close? Well Jerry Suen of Hamburg, Germany wanted to know as well so he took it upon himself to film his bearded dragon doing everyday things that bearded dragons do.
His beardie, named Toothless makes a pretty compelling subject matter for macro videography. Suen shot Toothless in his enclosure with a Panasonic Lumix GH 4 Mirrorless Micro Four Thirds digital camera, mostly in 4k resolution, using a slow motion film rate. He shot one sequence in the film with a GoPro Hero 4 action camera, where Toothless eats a locust.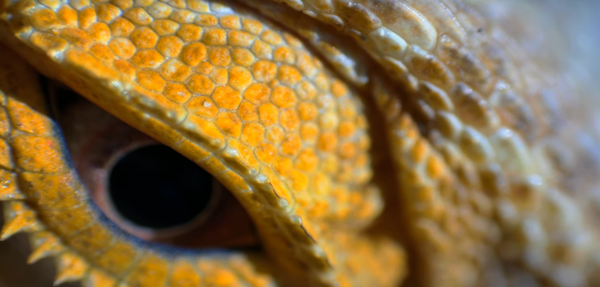 Jerry Suen
A macro closeup of a bearded dragon gives a different perspective.

"I decided to film macro, because I often see my beardie "doing" stuff and focusing on all kind of things in his little terrarium world. But from my or the human point of view, he just sits there lazily and idle," Suen said. "Only if you pay real attention and be patient, you can image, that he is very focused all the time. The world in the modern digital society is so fast and impersonal that people often forget the preciousness in the small detailed things, which you can only see, if you take some time for yourself and others."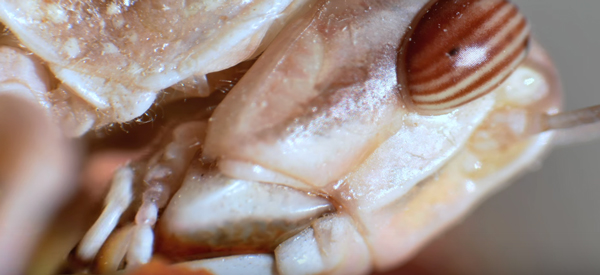 jerry suen
Here is an up close of a locust before it gets devoured by Toothless.

The video is interesting in that it gets super up close to the bearded dragon, showing in fine detail the scales of the reptile. It also shows a mealworm walking about in the enclosure, complete with water droplets. Suen focuses on an eye of Toothless as he stalks a locust. The camera then focuses on the locust, then on Toothless, then on the locust, and then on Toothless as he picks off the locust and devours it.