The scrub python had severely damaged its face.
Facing almost certain death, a snake catcher in Cooktown, Queensland, Australia, brought a 4.5 meter, 14 kilogram scrub python (Morelia amethistina) to a reptile veterinarian to see if the snake could be saved.
Think your job has hazards?? Try being an outback vet!! Getting up close and personal to save a wild scrub python is all in a day's work for Cooktown vet Dr Duncan Smith.

Posted by ABC Far North on Saturday, April 28, 2018
Cooktown snake catcher Jim Symes told Dr. Duncan Smith, who runs the vet clinic in Cooktown, that the wild python struck at a cage that had an animal in it and it smashed its front teeth and face.
"The reality is they're on the edge of starvation all the time and with an injury, he's probably going to starve to death," Dr. Smith told ABC News Australia. "Even if we have to euthanise the snake it's probably a better result than letting it starve to death in the wild."
But Smith decided to save the reptile instead as its wounds could be fixed.
In a video posted to the ABC Far North Facebook page, Smith directs Symes to grab the head of the python so he can take a look. With a pair of hemostats and pliers, Smith examines the snake's mouth and sees that the snake has extensive damage to its teeth as well as some decomposing flesh in its mouth. Smith then works to remove the dead flesh from the snake's mouth.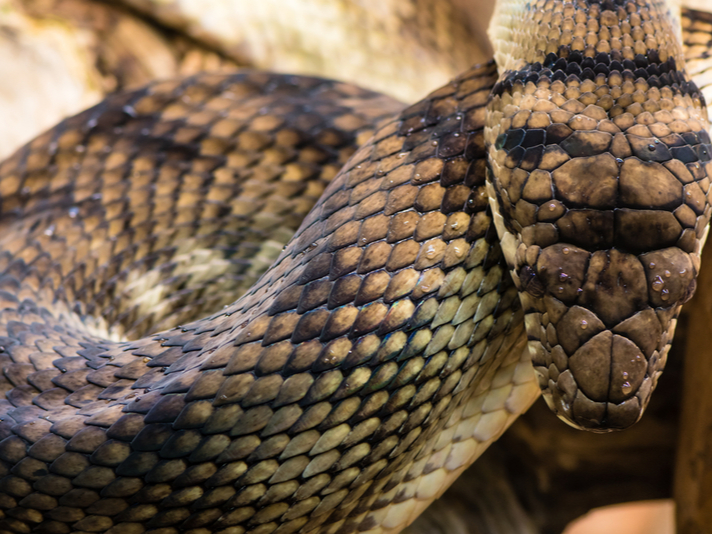 Advertisement
IanRedding/Shutterstock
The scrub python (Morelia amethistina) is the longest native snake in Australia.

"I'll just try and strip a bit of this away… hopefully without getting bitten," Smith said. As Smith works on the snake, Symes tries to keep the animal calm.
---
Giant Scrub Python Takes Its Time Crossing The Road
Advertisement
---
"He's really done a job on himself here but at least that's opened up, we're back to, it's bleeding so at least we're getting back to good tissue there."
Smith then finishes cleaning up the wound and then injects the snake with an antibiotic fend off infection. The snake was then weighed and will recover fully before it is released back into the wild.
The scrub python (Morelia amethistina) is the longest native snake in Australia. Its average length is between 2 to 4 meters (6 to 13 feet) in length and can weigh up to 33 pounds. It can be found in northern Australia and Papua New Guinea as well as in Indonesia. In the wild, the scrub python feeds on birds, rodents, and other small mammals.
Advertisement