Poseidon was out enjoying the Florida sun for more than three weeks.
An Asian water monitor (Varanus salvator macromaculatus) who escaped his enclosure more than three weeks ago in Florida, has been found and is finally back with his keeper.
Advertisement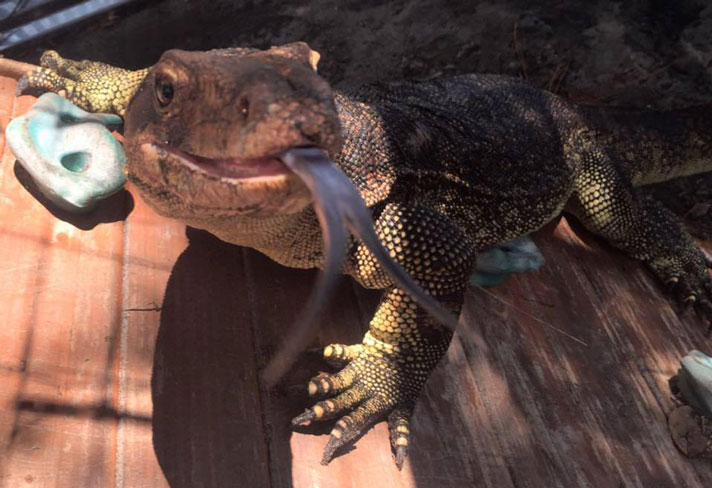 kevin hennings/Facebook
Poseidon, missing more than three weeks, was reunited with his keeper.

Kevin Hennings told ReptilesMagazine.com last month that Poseidon had escaped his enclosure October 14, a few weeks after Hurricane Irma struck the Sunshine State. Hennings was unsure how the large lizard escaped the enclosure, which was locked at the time.
---
Want To Learn More?
Florida Man Seeks Help In Finding His Missing Asian Water Monitor
Advertisement
Quick-Care Video-Asian Water Monitor
---
There were several sightings of the six foot lizard, and finally, on November 5, Hennings was able to lure him with food and recapture him near a lake.
Here's the video of Poseidon's recapture, for those of you who have been asking about it! My boy is back home where he belongs 🙏🏻 Please like and share 😅👍🏻

Posted by Kevin Hennings on Monday, November 6, 2017
Advertisement
"I have lots of big changes coming to his cage in the near future; expansion, in-ground pool, etc… and the entire cage is being rebuilt," Hennings wrote on Facebook.
"I also wanted to say thank you to everyone who has supported me from the very beginning. Today is a good day."
It looks like Hennings is super happy to have his friend back, and in honor of the lizard's return, Hennings will be doing some upgrading to the lizard's 20 x 20-foot outdoor enclosure.
Advertisement