Shallotte River Swamp Park video shows alligator snouts jutting out from frozen swamp water.
While iguanas were falling from their perches in Florida from the bomb cyclone and other cold weather that traipsed through the East Coast during the last week, American alligators (Alligator mississippiensis) in North Carolina were doing what they do best to ride out the onslaught of cold weather.
Advertisement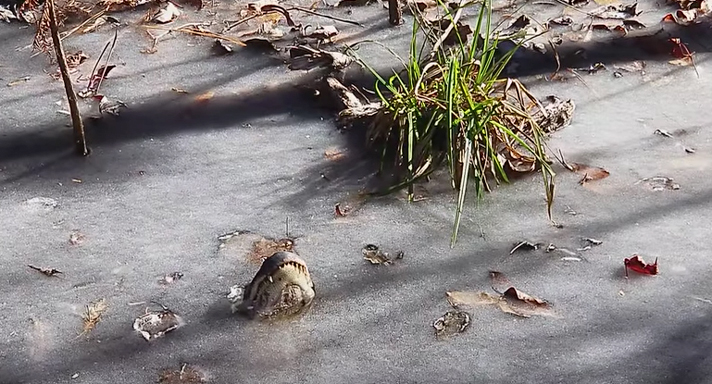 Shallotte River Swamp Park
An alligator's snout just above the frozen swamp water. The reptile is in a state of brumation, waiting for the weather to warm.

The Shallotte River Swamp Park in Ocean Isle Beach, NC is home to a swamp full of rescued alligators. Staff at the park captured video footage showing how the reptiles adapt to cold weather, and it is absolutely fascinating.
Advertisement
North Carolina was not spared the Bomb Cyclone of 2018 and the alligators, which can move about in temperatures as low as 40 degrees Fahrenheit, had to compensate for the freezing temperatures that befell the park last week. The video footage shows a frozen swamp with alligator snouts just above the surface of the water. During last week's cold weather, the alligators at the park went into a state of brumation, keeping their snouts just above the water, which froze over from the cold weather. This is just one of the reasons why Alligator mississippiensis has been around for millions of years, they can adapt to nearly any situation nature throws at them!
Survival machines! The American Alligator in ice. #northcarolinaaquarium #newhanovercountyschools #brunswickcountyschools #alligators #oib #oibswamppark #visitnc #visitmyrtlebeach #winter2018 #wilmingtonnc #natgeo Brunswick County, North Carolina

Posted by Shallotte River Swamp Park on Friday, January 5, 2018