Albino green sea turtles are rare.
Volunteers with the Coolum District Coast Care Group in Australia discovered an albino hatchling green sea turtle (Chelonia mydas) in a nest over the weekend and they are happy to report the turtle, which one was one 123 turtles to hatch out of a nest obj Castaway Beach, made it over the sand dunes and into the ocean.
VIDEO: ALBINO TURTLEMeet Alby – the first Albino green turtle locals have come across in years. The white beauty was born at Castaways Beach and happily made his/her way across the dunes into the ocean yesterday.#7LocalNews Coolum District Coast Care Group

Posted by 7 Local News Sunshine Coast on Sunday, February 7, 2016
The turtle is, according to Dr. Col Limpus of the Queensland government's Threatened Species Unit, a "one in many hundreds of thousands" hatched.
The group was collecting data from the hatched nest when the albino turtle was discovered.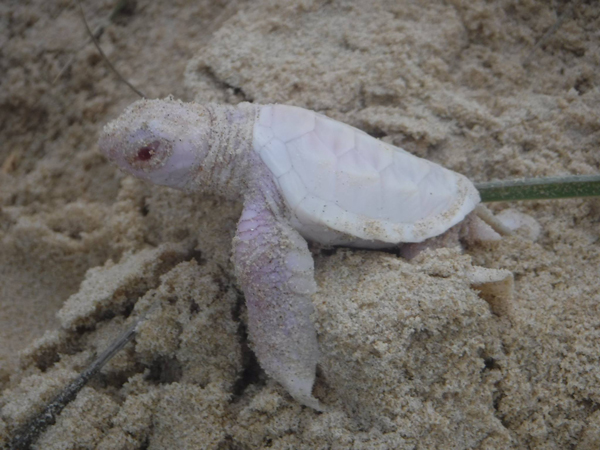 Adrienne Savage/Coolum District Coast Care Group/Facebook
This albino green sea turtle is very rare.

The survivability for this particular green sea turtle is not good given its color, which would cause it to stand out for predators to pick off. In fact, it is estimated that just 1 in 1,000 green sea turtles reach maturity. They are considered endangered throughout the world due to habitat loss, egg harvesting, pollution, and entanglements in fishing gear.