The sale of the snake-themed art will benefit the zoo.
Interested in adding snake art to your collection? If you are, there will be an art sale in Knoxville, TN that will benefit the zoo, and all the art pieces will showcase snake artwork painted and drawn by various artists of East Tennessee.
Each piece of art which are mostly 2.5 x 3.5-inch works of art (Some are 5 x 7 inch canvases), will sell for $5 during the art show, slated for 5-7 p.m. Sunday, Sept. 10, at Trailhead Beer Market, 1317 Island Home Ave. in Knoxville.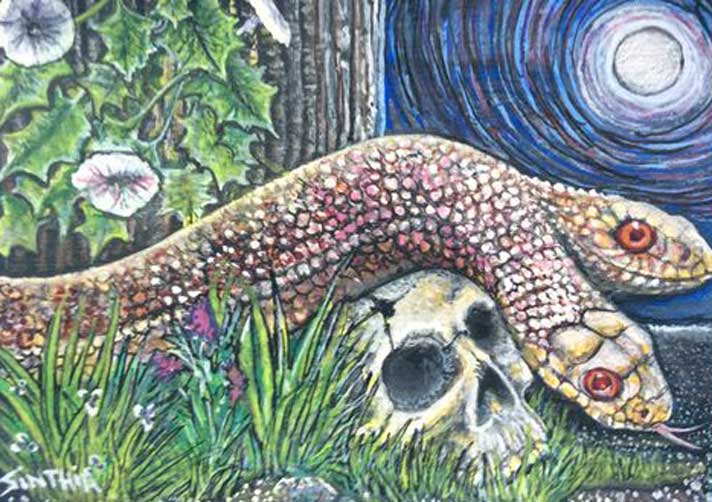 Heather Nijoli Robinson
This piece of art will sell for just $5.

The sale of the 113 masterpieces in total, will benefit the zoo, and is the third art-inspired fundraiser put on by Heather Nijoli Robinson and Tara Donahue of Knoxville. The duo decided to help the zoo out when 34 snakes and other reptiles perished at the zoo in March. Some of those were endangered species. An unknown toxin killed the animals, and that building no longer houses animals.
Advertisement
When Robinson and Donahue first came up with the concept, they settled on $5 because they said the price was incredible.
---
Read More
2013 Drawn To REPTILES Amateur Art Contest Entries
2014 Kid Herper Art Contest Winners
---
"When Tara and I came up with five bucks, we thought it was not only a cool way to raise money for an organization. But our friends aren't loaded but they can buy a piece of art for $5," Robinson told the Knoxville News Sentinel.
Advertisement
"People who can't afford (other) art give us $5," she said. And some "round up because they know it's going for a good cause."
Lisa New, CEO of Zoo Knoxville is appreciative of their efforts, especially given the master plan for the park includes a state-of-the-art reptile education facility.
"Although these pieces of art may be small, they are part of something much bigger when they support the internationally-recognized work being done at Zoo Knoxville to save critically endangered reptiles from extinction," New told the Knoxville News Sentinel.
Advertisement